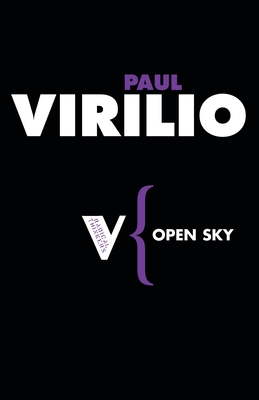 Open Sky (Radical Thinkers)
Paperback

* Individual store prices may vary.
Description
"One day the day will come when the day will not come." Bleak, but passionately political in its analysis of the social destruction wrought by modern technologies of communication and surveillance, Open Sky is Paul Virilio's most far-reaching and radical book. Deepening and extending his earlier work, he explores the growing danger of what he calls a "generalized accident," provoked by the breakdown of our collective and individual relation to time, space and movement in the context of global electronic media. But this is not merely a lucid and disturbing lament for the loss of real geographical spaces, distance, intimacy or democracy. Open Sky is also a call for revolt—against the insidious and accelerating manipulation of perception by the electronic media and repressive political power, against the tyranny of "real time," and against the infantilism of cyberhype. Virilio makes a powerful case for a new ethics of perception, and a new ecology, one which will not only strive to protect the natural world from pollution and destruction, but will also combat the devastation of urban communities by proliferating technologies of control and virtuality.
Praise For Open Sky (Radical Thinkers)…
"One of the most original thinkers of our time."—Liberation

"A refreshing antidote to the 'global village' mantra of net gurus, Virilio writes in the subversive tradition of Michel Foucault and Jean Baudrillard."—Publishers Weekly

"Virilio is an impressive commentator on the conditioning power of the mass media ... he has become essential reading for anyone trying to make sense of America's out-of-control war of prevention."—Guardian
Verso, 9781844672080, 162pp.
Publication Date: January 17, 2008
About the Author
Paul Virilio trained as an artist in stained glass, working with Braque and Matisse, as well as studying philosophy at the Sorbonne. In 1975 he was made director of the Ecole spéciale d'architecture in Paris. He retired from teaching in 1998 and now works with private organizations on projects to house the homeless in Paris. He has written many books, including War and Cinema, Open Sky, and Ground Zero.