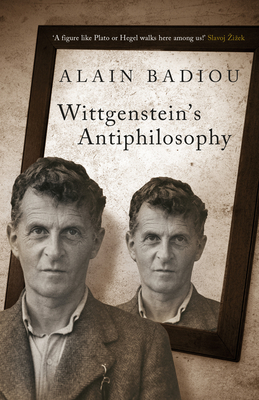 Wittgenstein's Antiphilosophy
Paperback

* Individual store prices may vary.
Other Editions of This Title:
Hardcover (6/22/2011)
Description
Alain Badiou takes on the standard bearer of the "linguistic turn" in modern philosophy, and anatomizes the "anti-philosophy" of Ludwig Wittgenstein, in his Tractatus Logico-Philosophicus. Addressing the crucial moment where Wittgenstein argues that much has to be passed over in silence—showing what cannot be said, after accepting the limits of language and meaning—Badiou argues that this mystical act reduces logic to rhetoric, truth to an effect of language games, and philosophy to a series of esoteric aphorisms. in the course of his interrogation of Wittgenstein's anti-philosophy, Badiou sets out and refines his own definitions of the universal truths that condition philosophy. Bruno Bosteels' introduction shows that this encounter with Wittgenstein is central to Badiou's overall project—and that a continuing dialogue with the exemplar of anti-philosophy is crucial for contemporary philosophy.
Praise For Wittgenstein's Antiphilosophy…
"The story of Wittgenstein's career is that of coming to believe that philosophy's salvation lies in its aspiring to the condition of poetry. For Badiou, as a Platonist, that is a counsel of despair."
—New Statesman

"Wittgenstein's Anti-Philosophy is another attempt to shore up the division between Anglo-American and European philosophy. But in doing so the ancillary effect is a text that also brings the two traditions into an unlikely conversation."
—Times Literary Supplement

"Though Badiou's studies fall outside the mainstream of research into Wittgenstein's philosophy, they are thought-provoking and contain bold statements and innovative interpretations."
—Marx and Philosophy Review of Books

"Antiphilosophy and the valorization of the mystical is anathema to Badiou, it smacks of religious faith, but he is not immune to the power of Wittgenstein's thought and he worries at it like a dog with a bone. The two philosophers share a tight cogency in their writing that does not suffer foolish words gladly and Wittgenstein's Antiphilosophy is, in its own way, as carefully packed as the Tractatus. It is a book to read slowly, to re-read and ponder what drove Wittgenstein to argue and formulate so compellingly the notion that the only truth worth its name is that which results in an affirmative when a proposition is compared with empirical reality."
—Irish Left Review
Verso, 9781844672240, 192pp.
Publication Date: July 23, 2019
About the Author
Alain Badiou teaches philosophy at the École normale supérieure and the Collège international de philosophie in Paris. In addition to several novels, plays and political essays, he has published a number of major philosophical works, including Theory of the Subject, Being and Event, Manifesto for Philosophy, and Gilles Deleuze. His recent books include The Meaning of Sarkozy, Ethics, Metapolitics, Polemics, The Communist Hypothesis, Five Lessons on Wagner, and Wittgenstein's Anti-Philosophy.

Bruno Bosteels, Professor of Romance Studies at Cornell University, is the author of Badiou and Politics, Marx and Freud in Latin America, and The Actuality of Communism. He is also the translator of several books by Alain Badiou: Theory of the Subject, Can Politics Be Thought? and What Is Antiphilosophy? Essays on Kierkegaard, Nietzsche, and Lacan. He currently serves as the General Editor of Diacritics.