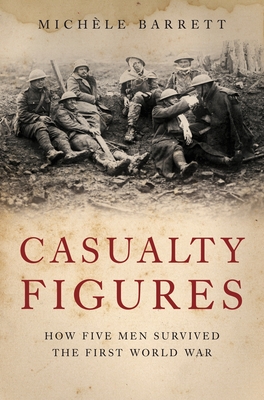 Casualty Figures (Hardcover)
How Five Men Survived the First World War
Verso, 9781844672301, 174pp.
Publication Date: April 17, 2008
* Individual store prices may vary.
Description
Casualty Figures is not about the millions who died in the First World War; it is about the countless thousands of men who lived as long-term casualties—not of shrapnel and gas, but of the bleak trauma of the slaughter they escaped. In this powerful new book, Michèle Barrett uncovers the lives of five ordinary soldiers who endured the "war to end all wars," and how they dealt with its horrors, both at the front and after the war's end. Through their stories, Barrett sheds new light on the nature of the psychological damage of war, which for the first time became both widely acknowledged and profoundly controversial through the term "shell shock." Drawing on a wealth of previously unpublished material, Casualty Figures is a moving and original account of the psychological havoc caused by war."
About the Author
Michèle Barrett is Professor of Modern Literary and Cultural Theory in the School of English and Drama, Queen Mary, University of London. She is the author, among other works, of Women's Oppression Today, The Anti-Social Family, and Politics of Diversity (co-authored with Roberta Hamilton).
or
Not Currently Available for Direct Purchase