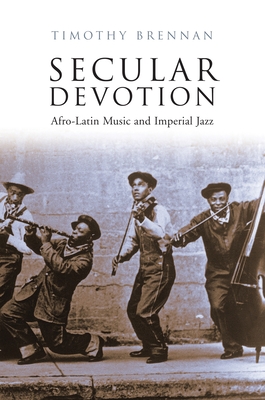 Secular Devotion
Afro-latin Music and Imperial Jazz
Paperback

* Individual store prices may vary.
Description
Popular music in the Americas, from jazz, Cuban and Latin salsa to disco and rap, is overwhelmingly neo-African. Created in the midst of war and military invasion, and filtered through a Western worldview, these musical forms are completely modern in their sensibilities: they are in fact the very sound of modern life. But the African religious philosophy at their core involved a longing for earlier eras—ones that pre-dated the technological discipline of labor forced on captive populations by the European occupiers. In this groundbreaking new book, Timothy Brennan shows how the popular music of the Americas—the music of entertainment, nightlife, and leisure—is involved in a devotion to an African religious worldview that survived the ravages of slavery and found its way into the rituals of everyday listening. In doing so he explores the challenge posed by Afro-Latin music to a world music system dominated by a few wealthy countries and the processes by which Afro-Latin music has been absorbed into the imperial imagination.
Praise For Secular Devotion: Afro-latin Music and Imperial Jazz…
"An amazing book. Afro-Latin music at the highest levels of discourse and imagination. Destined to become an abiding classic."—Robert Farris Thompson

"If you've never read another music book or have yet to read a book about jazz, make this the one."—Will Shapira, Jazz Notes

"A fine examination of the impact of African music and how music became what it is today"—Midwest Book Review
Verso, 9781844672912, 290pp.
Publication Date: October 17, 2008
About the Author
Timothy Brennan is professor of comparative literature, cultural studies, and English at the University of Minnesota. His books include At Home in the World: Cosmopolitanism Now and, most recently, Wars of Position: The Cultural Politics of the Left and Right. He writes for a number of journals, including New Left Review and The Nation.
or
Not Currently Available for Direct Purchase