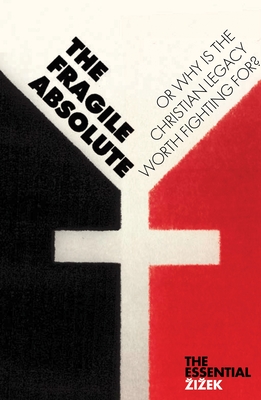 The Fragile Absolute
Or, Why Is the Christian Legacy Worth Fighting For? (The Essential Zizek)
Paperback

* Individual store prices may vary.
Description
One of the signal features of our era is the re-emergence of the 'sacred' in all its different guises, from New Age paganism to the emerging religious sensitivity within cultural and political theory.

The wager of Žižek's The Fragile Absolute – published here with a new preface by the author – is that Christianity and Marxism can fight together against the contemporary onslought of vapid spiritualism. The revolutionary core of the Christian legacy is too precious to be left to the fundamentalists.
Praise For The Fragile Absolute: Or, Why Is the Christian Legacy Worth Fighting For? (The Essential Zizek)…
"Righteously to battle the tsunami of postmodern spiritual mush, Žižek attempts a reconciliation between Marxism and Christianity, eccentrically (against Nietzsche) trying to recuperate St Paul for the radical Christian."—Guardian

"Žižek leaves no social or cultural phenomenon untheorized, and is master of the counterintuitive observation."—The New Yorker

"This is a subtle argument ... Žižek applies it with a broad brush to both contemporary society and popular culture."—Boston Book Review
Verso, 9781844673025, 192pp.
Publication Date: January 5, 2009
About the Author
Slavoj Žižek is a Slovenian philosopher and cultural critic. He is a professor at the European Graduate School, International Director of the Birkbeck Institute for the Humanities, Birkbeck College, University of London, and a senior researcher at the Institute of Sociology, University of Ljubljana, Slovenia. His books include Living in the End Times, First as Tragedy, Then as Farce, In Defense of Lost Causes, four volumes of the Essential Žižek, and many more.
or
Not Currently Available for Direct Purchase