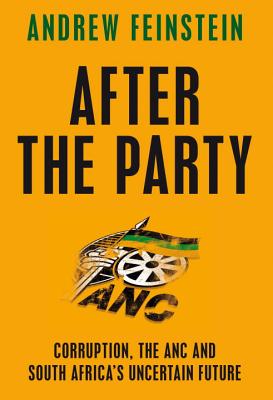 After the Party (Hardcover)
Corruption, the ANC and South Africa's Uncertain Future
Verso, 9781844673568, 308pp.
Publication Date: April 7, 2009
Other Editions of This Title:
Paperback (5/31/2010)
* Individual store prices may vary.
Description
After the Party is the explosive story of the power struggles dominating South African politics and a crucial analysis of the ANC's record in power. Andrew Feinstein, a former ANC member of parliament, recounts how Mandela's successor Thabo Mbeki repressed debate within the party, imposed his AIDS denialism on government, refused to criticize Mugabe's rule in Zimbabwe and stopped an investigation of a multi-billion-dollar arms deal that was tainted by allegations of high-level graft. Feinstein shows how this infamous deal epitomises all that is rotten at the heart of the ANC. Investigating the payment of up to $200 million worth of bribes, he reveals a web of concealment and corruption involving senior politicians and officials, and figures at the very highest level of South African politics.

With an insider's account of the events surrounding the contentious trial of South Africa's colourful President, Jacob Zuma, and the ongoing tragedy in Zimbabwe, After the Party has been acclaimed as the most important book on South Africa since the end of apartheid.
About the Author
Andrew Feinstein is a former ANC Member of Parliament. He has written extensively for the "Guardian," "The New York Times," "The Wall Street Journal," the "Washington Post," and "Newsweek," among others, and is a regular commentator on CNN and Al Jazeera. He lives in London.
Praise For After the Party: Corruption, the ANC and South Africa's Uncertain Future…
"A hard-hitting, searingly honest and indubitably courageous account of the author's personal and political journey into South Africa's post-apartheid parliament as a member of the African National Congress—and his departure from it over the failure of the party leadership to support any parliamentary enquiry into a notoriously corrupt arms deal; it also leads the reader to the heart of South Africa's politics over the last decade. It is an indispensable read for anyone interested in understanding the challenges and dilemmas of contemporary South African politics."—Shula Marks

"As this book makes clear, every budding African democracy would benefit from a plethora of Andrew Feinsteins. Principled, anguished and sincere, he is the kind of man who cannot help doggedly holding power to account."—Michela Wrong

"Anyone wishing to understand what has happened to the South African dream must read this book. Enthralling and lucid, it shows how the political successors of Nelson Mandela lost their way and South Africa lost the moral high ground. An eyewitness account of the colourful court of President Thabo Mbeki, this authoritative memoir reveals and explains while remaining balanced and fair in its judgements."—Richard Dowden

"Gripping in its blow-by-blow account of how international arms companies corrupted South Africa's young democracy, and heartbreaking in its portrayal of an honest politician's attempt to keep his government clean, After the Party is an enthralling read."—Andrew Cockburn

"This important and brave book illustrates the extent to which South Africa's multi-billion-dollar arms deal has undermined the rule of law, accountability and constitutionality in the country. It provides compelling evidence that corruption linked to the deal and the mishandling of the AIDS pandemic marked the point at which our young democracy lost its moral compass. It also speaks to the virtues of a transparent, accountable politics of principle that is needed in South Africa and so much of the world."—Archbishop Desmond Tutu
or
Not Currently Available for Direct Purchase