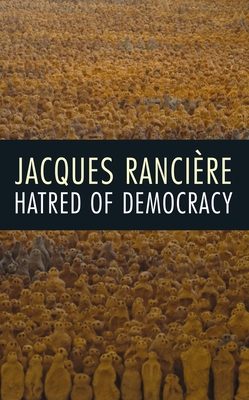 Hatred of Democracy
Paperback

* Individual store prices may vary.
Other Editions of This Title:
Paperback (1/7/2014)
Description
Jacques Rancière argues that the West can no longer simply extol the virtues of democracy by contrasting it with the horrors of totalitarianism. As certain governments are exporting democracy by brute force, and a reactionary strand in mainstream political opinion is willing to abandon civil liberties and destroy collective values of equality, Rancière explains how democracy—government by all—attacks any form of power based on the superiority of an elite. Hence the fear, and consequently the hatred, of democracy amongst the new ruling class. In a compelling and timely analysis, Hatred of Democracy rethinks the subversive power of this democratic ideal.
Praise For Hatred of Democracy…
"Ranciere critiques the political stance in the west that pours scorn on mass protests and popular culture at home, yet promotes the spread of democracy by force throughout the world ... But Ranciere eschews polemic in order to show the confusion in our political discourse. He challenges what he sees as the widely held view that democratic life is synonymous with 'the apolitical life of the indifferent consumer.'"—New Statesman

"This tastily sardonic essay is partly a scholarly sprint through the history of political philosophy, and partly a very enjoyable stream of insults directed at rival penseurs."—Guardian

"A piercing essay on the definitions and redefinitions of the term 'democracy' ... the present catastrophe in Iraq provides more than ample proof of Ranciere's bold assertion that we need to rethink the relationship between democracy and power before setting in motion any more wars in the name of 'freedom.'"—Times Higher Education Supplement

"In our time of the disorientation of the left, Rancière's writings offer one the few consistent conceptualizations of how are to continue to resist."—Slavoj Žižek

"One of the most compelling thinkers and writers in France since Michel Foucault and Gilles Delueze."—Tom Conley
Verso, 9781844673865, 106pp.
Publication Date: August 3, 2009
About the Author
Jacques Rancière is Emeritus Professor of Philosophy at the University of Paris-VIII. His books include The Politics of Aesthetics, On the Shores of Politics, Short Voyages to the Land of the People, The Nights of Labor, Staging the People, and The Emancipated Spectator.
or
Not Currently Available for Direct Purchase