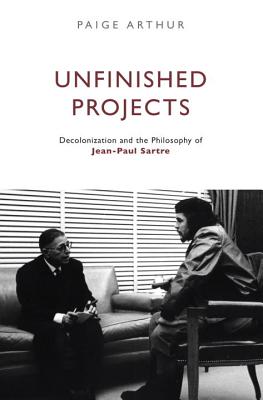 Unfinished Projects (Hardcover)
Decolonization and the Philosophy of Jean-Paul Sartre
Verso, 9781844673988, 233pp.
Publication Date: March 1, 2010
Other Editions of This Title:
Paperback (3/2/2010)
* Individual store prices may vary.
Description
In this major new reading of Sartre's life and work, Paige Arthur traces the relationship between the philosopher's decades-long commitment to decolonization and his intellectual positions. Where other commentators have focused on the tensions between Sartre's Marxism and his account of existential freedom, usually to denigrate one in favor of the other, Arthur shows how Sartre's political engagement with global liberation movements and his philosophical framework developed alongside one another. Closely following the postwar movements for decolonization, and then supporting the war of independence in Algeria, Sartre proposed an influential and uncompromising view of imperialism. Analyzing the Western attitude to the subhuman colonial subject, he offered an account of the social constraints that applied to both ruler and ruled, and came to argue that political violence on both sides was a systematic consequence of the colonial order. Arthur's rich and nuanced book locates Sartre within the political discussions of his time, whilst also looking forward to contemporary debates about new forms of imperialism and resistance.
About the Author
Paige Arthur is Deputy Director of Research at the International Center for Transnational Justice. She has taught at both UC Berkeley and the New School University.

Ian Hacking is Emeritus Professor of Philosophy at the University of Toronto. He is the author of "Historical Ontology," "Scientific Revolutions," and "The Emergence of Probability."
Praise For Unfinished Projects: Decolonization and the Philosophy of Jean-Paul Sartre…
"In this innovative and exciting book, Paige Arthur recasts the story of twentieth-century intellectual life by retrieving its global contexts and shattering convenient myths... Sartre's anticolonialism proves in Arthur's sophisticated rendition far richer and more complex than snide dismissals of his 'totalitarian' impulses have allowed."—Samuel Moyn, Columbia University

"Arthur's insightful and careful exposition of Sartre's anti-colonial trajectory from 1945 constitutes a powerful corrective to revisionist interpretation of his 'Third Worldism.'"—Times Literary Supplement

"In this fine book Paige Arthur systematically examines from a fresh perspective a second political engagement of Sartre's: as a critic of colonialism and neo-colonialism and as a supporter of Third World liberation struggles."—Joseph G. Peschek, New Political Science
or
Not Currently Available for Direct Purchase