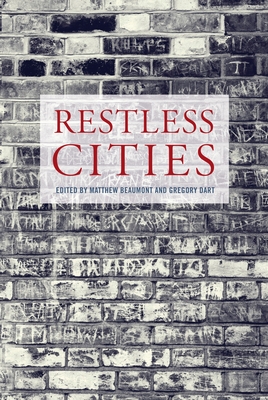 Restless Cities (Paperback)
Verso, 9781844674053, 326pp.
Publication Date: May 4, 2010
Description
The metropolis is a site of endless making and unmaking. From the attempt to imagine a 'city-symphony' to the cinematic tradition that runs from Walter Ruttmann to Terence Davies, "Restless Cities" traces the idiosyncratic character of the metropolitan city from the nineteenth century to the twenty-first-century megalopolis. With explorations of phenomena including nightwalking, urbicide, property, commuting and recycling, this wide-ranging new book identifies and traces the patterns that have defined everyday life in the modern city and its effect on us as individuals. Bringing together some of the most significant cultural writers of our time, "Restless Cities" is an illuminating, revelatory journey to the heart of our metropolitan world.
About the Author
Matthew Beaumont is a Senior Lecturer in the Department of English at University College London. He is the author of "Utopia Ltd.: Ideologies of Social Dreaming in England 1870-1900 "(2005), and the co-author, with Terry Eagleton, of "The Task of the Critic: Terry Eagleton in Dialogue" (2009). He has edited or co-edited several collections of essays: "As Radical as Reality Itself: Essays on Marxism and Art for the 21st Centur"y; "The Railway and Modernity: Time, Space, and the Machine Ensemble"; "Adventures in Realism"; and "Restless Cities." He is currently writing a book about nightwalking in cities, "Midnight Streets."

Gregory Dart is a Senior Lecturer in English Literature at University College London. Among his books are "Rousseau, Robespierre and English Romanticism" and "Unrequited Love: On Stalking and Being Stalked." He is writing a book on the art and literature of the early nineteenth-century city.

Marshall Berman is Distinguished Professor of Political Science at City College of New York and CCNY Graduate Center, where he teaches political theory and urban studies. He writes frequently for "The Nation" and "The Village Voice," and serves on the editorial board of "Dissent." He is the author of "The Politics of Authenticity"; "All That Is Solid Melts into Air"; and "On the Town."

Esther Leslie is a lecturer in English and Humanities at Birkbeck College, London. She is the author of "Walter Benjamin: Overpowering Conformism" and sits on the editorial boards of "Historical Materialism," "Radical Philosophy" and "Revolutionary History."
Praise For Restless Cities…
"A culturally and historically rich illumination of the city in all its complexity."—Icon

"A richly alternative guide to city living."—Metro

"A gem of a book, by turns inspiring, shocking and consistently intelligent."—Stuart Kelly, Scotland on Sunday

"Bold and admirable."—PD Smith, Guardian

"Fresh and piquant observations about aspects of modern living."—Time Out London
Advertisement