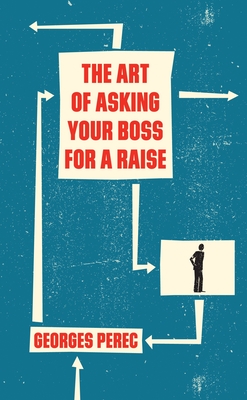 The Art of Asking Your Boss for a Raise
Hardcover

* Individual store prices may vary.
Other Editions of This Title:
Paperback (1/17/2017)
Description
A long-suffering employee in a big corporation has summoned up the courage to ask for a raise. But as he runs through the coming encounter in his mind, his neuroses come to the surface: What's the best day to see the boss? What if he doesn't offer you a seat when you go into his office? And should you ask that tricky question about his daughter's illness?

You can try to navigate these difficult decisions for yourself at www.theartofaskingyourbossforaraise.com ... 

The Art of Asking Your Boss for a Raise is a hilarious account of an employee losing his identity—and possibly his sanity—as he tries to put on the most acceptable face for the corporate world, with its rigid hierarchies and hostility to ideas and innovation. If he follows a certain course of action, so this logic goes, he will succeed—but, in accepting these conditions, are his attempts to challenge his world of work doomed from the outset?

Neurotic and pessimistic, yet endearing, comic and never less than entertaining, Perec's Woody Allen-esque underling presents an acute and penetrating vision of the world of office work, as pertinent today as it was when it was written in 1968.
Praise For The Art of Asking Your Boss for a Raise…
"A hilarious and inventive office-drone odyssey."
—Bookforum

"Its wit and comedy encourage compulsive consumption."
—David O'Neill, Barnes and Noble Review

"We readers will have to deal with the fortunate burden of clearing shelf-space for another novel by Perec this spring, with the first English translation of The Art of Asking Your Boss for a Raise."
—Most Anticipated Books of 2011, The Millions

"As a witty indictment of corporate culture and an artifact from one of the 20th century's most bizarre literary movements, The Art of Asking Your Boss for a Raise—as with all the works of Georges Perec—is a puzzle too absurd not to explore ... [it] will interest any reader who has ever worked in a large bureaucracy and considered himself underpaid."
—James K. McAuley, Harvard Crimson

"Perec's novels are games, each different. They are played for real stakes and in some cases breathtakingly large ones. As games should be, and as literary games often are not, they are fun."
—Los Angeles Times

"We defy you to walk by this book and not pick it up. Perfectly packaged and immediately intriguing!"
—A Largehearted WORD Book of the Week

"A brilliant ... conceptual, comedic novella from the writer who wrote the postmodern masterpiece Life: A User's Manual."
—City Arts

"An acute and penetrating vision of the world of office work."
—Arthur

"Perec's knack for absurdity and circumlocution ensures that each iteration is novel and urgent."
—Full Stop

"[A] fun read for someone who enjoys computer programming and corporate irony, and would make a perfect gift for the office mate with a good sense of humor."
—bestdamncreativewritingblog

"[A] terribly compelling work, one that does a great deal with very little. With his use of repetition, which also evokes a pre-set mechanism, Perec establishes a rhythm of sorts, while his subtle deviations from the pattern serve as moments of dark comedy."
—Slant Magazine

"Certainly something different, and quite enjoyable."
—Complete Review
Verso, 9781844674190, 96pp.
Publication Date: March 14, 2011
About the Author
Georges Perec was one of the most important experimental writers of the twentieth century. His many works include the novels Life: A User's Manual; W, Or, The Memory of Childhood; and The Art of Asking Your Boss for a Raise.

David Bellos is the author of a number of award-winning literary biographies and the winner of the inaugural Man Booker International Prize for translation in 2005. He lives in New Jersey and teaches French, Italian, and Comparative literature at Princeton University.
or
Not Currently Available for Direct Purchase