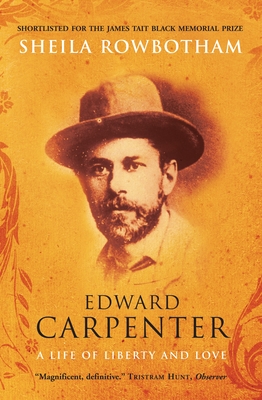 Edward Carpenter (Paperback)
A Life of Liberty and Love
Verso, 9781844674213, 566pp.
Publication Date: October 5, 2009
Other Editions of This Title:
Hardcover (10/31/2008)
* Individual store prices may vary.
Description
The gay socialist writer Edward Carpenter had an extraordinary impact on the cultural and political landscape of the late nineteenth and early twentieth centuries. A mystic advocate of, among other causes, free love, recycling, nudism, women's suffrage and prison reform, his work anticipated the sexual revolution of the 1960s. Sheila Rowbotham's highly acclaimed biography situates Carpenter's life and thought in relation to the social, aesthetic and intellectual movements of his day, and explores his friendships with figures such as Walt Whitman, E.M. Forster, Isadora Duncan and Emma Goldman. Edward Carpenter is a compelling portrait of a man described by contemporaries as a 'weather-vane' for his times.
About the Author
Sheila Rowbotham is Honorary Research Fellow in Sociology in the School of Social Sciences within the Faculty of Humanities at Manchester University and Visiting Fellow in the School of Sociology, Politics and International Studies at the University of Bristol. She is also a Fellow of the Royal Society of Arts. Her many books include the James Tait Black–shortlisted Edward Carpenter: A Life of Liberty and Love, A Century of Women: The History of Women in Britain and the United States in the Twentieth Century, Promise Of A Dream: Remembering the Sixties, and Dreamers of a New Day: Women Who Invented the Twentieth Century. She has written for, among other newspapers, the Guardian, The Times, The Independent, New Statesman, and The New York Times. She lives in Manchester.
Praise For Edward Carpenter: A Life of Liberty and Love…
"Exhaustively researched and resonant in detail. It is a splendid reassessment of a man who was both typical of his own time and light years ahead of it."—Fiona MacCarthy, Guardian

"One of the best political biographies for many years. It is not just a book about the past; it's bursting with ideas that remain relevant to the future of humanity."—Peter Tatchell, Observer Books of the Year

"A powerful and entertaining biography of the 'sexy sage of Sheffield' ... This absorbing book opens the whole period of early socialism in Britain. And it reads beautifully."—Jeanette Winterson, Times

"Immensely valuable."—Colm Tóibín, London Review of Books

"Magnificent ... definitive."—Tristram Hunt, Observer

"I devoured these 550 pages in a day, longing for more."—Richard Canning, Independent

"Sheila Rowbotham has given us not just an account of one remarkable individual's life, but has helped to explain how we evolved into the society we are today."—Martin Pugh, Times Literary Supplement

"An excellent new biography. Rowbotham masterfully renders Carpenter relevant by writing with authority as well as a humorous intimacy that comes from spending decades studying Carpenter."—Politics and Culture
or
Not Currently Available for Direct Purchase