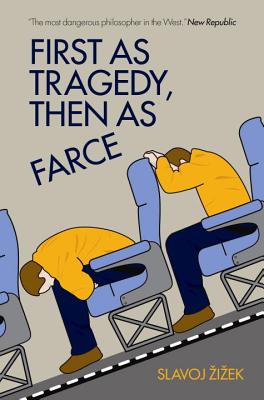 First As Tragedy, Then As Farce (Paperback)
Verso, 9781844674282, 158pp.
Publication Date: October 5, 2009
Other Editions of This Title:
Paperback (7/10/2018)
* Individual store prices may vary.
Description
Billions of dollars have been hastily poured into the global banking system in a frantic attempt at financial stabilization. So why has it not been possible to bring the same forces to bear in addressing world poverty and environmental crisis?

In this take-no-prisoners analysis, Slavoj Žižek frames the moral failures of the modern world in terms of the epoch-making events of the first decade of this century. What he finds is the old one-two punch of history: the jab of tragedy, the right hook of farce. In the attacks of 9/11 and the global credit crunch, liberalism dies twice: as a political doctrine and as an economic theory.

First as Tragedy, Then as Farce is a call for the Left to reinvent itself in the light of our desperate historical situation. The time for liberal, moralistic blackmail is over.
About the Author
Slavoj Žižek is a Slovenian philosopher and cultural critic. He is a professor at the European Graduate School, International Director of the Birkbeck Institute for the Humanities, Birkbeck College, University of London, and a senior researcher at the Institute of Sociology, University of Ljubljana, Slovenia. His books include Living in the End Times, First as Tragedy, Then as Farce, In Defense of Lost Causes, four volumes of the Essential Žižek, and many more.
Praise For First As Tragedy, Then As Farce…
"Žižek leaves no social or cultural phenomenon untheorized, and is master of the counterintuitive observation."—The New Yorker

"The Elvis of cultural theory."—The Chronicle of Higher Education

"One of the most innovative and exciting contemporary thinkers of the left."—Times Literary Supplement

"Žižek is an influential thinker, and this short book offers an excellent entry into his thought."—David Gordon, Library Journal

"[A] great provocateur and an immensely suggestive and even dashing writer ... Žižek writes with passion and an aphoristic energy that is spellbinding."—Richard Rayner, Los Angeles Times

"The most dangerous philosopher in the West."—New Republic
or
Not Currently Available for Direct Purchase