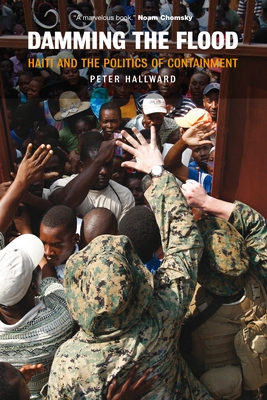 Damming the Flood
Haiti and the Politics of Containment
Paperback

* Individual store prices may vary.
Other Editions of This Title:
Hardcover (4/17/2008)
Paperback (4/17/2008)
Description
Long before a devastating earthquake hit in January 2010, Haiti was one of the most impoverished and oppressed countries in the world. However, in the late 1980s a remarkable popular mobilization known as Lavalas ("the flood") sought to liberate the island from decades of US-backed dictatorial rule. Damming the Flood analyzes how and why the Lavalas governments led by President Jean-Bertrand Aristide were overthrown, in 1991 and again in 2004, by the enemies of democracy in Haiti and abroad.

The elaborate campaign to suppress Lavalas was perhaps the most successful act of imperial sabotage since the end of the Cold War. It has left the people of Haiti at the mercy of some of the most rapacious political and economic forces on the planet.

Updated with a substantial new afterword that addresses the international response to the earthquake, Damming the Flood is both an invaluable account of recent Haitian history and an illuminating analysis of twenty-first-century imperialism.
Praise For Damming the Flood: Haiti and the Politics of Containment…
"This riveting and deeply informed account should be carefully read by those who recognize that Haiti's tragic history is a microcosm of imperial savagery and heroic resistance."—Noam Chomsky

"A detailed account of the 'democratic containment' of Haiti's radical politics in the past two decades ... an outstanding book."—Slavoj Žižek, New Statesman

"An excellent book ... the first accurate analysis of recent Haitian history, and of its history in the making."—Dr. Paul Farmer, Harvard University

"Damming the Flood is a brilliant, politically sophisticated and morally infuriating work on a shameful piece of very recent history that the US press has either distorted or ignored. It is the most important and devastating book I've read on American betrayal of democracy in one of the most tormented nations in the world."—Jonathan Kozol, author of Death at an Early Age, Rachel and her Children, and Savage Inequalities

"The book is a masterpiece. As someone who lived through those years, Damming the Flood is not only incredibly accurate and well sourced but the analysis is also flawless."—Ira Kurzban, immigration lawyer and former attorney for the Haitian Government

"This is a book about the latest crime that the world's most powerful nation committed against one of the world's poorest. I like this book for its scholarship, its measured tone, and its good writing. But I am grateful for it above all because at long last it presents another side of a story that has been reported, almost universally, with stunning tendentiousness and in apparent ignorance of the lives and opinions of most Haitians. This book goes a long way to setting the record straight ... It ought to be required reading for every historian of the Americas and for every student of political science."—Tracy Kidder, author of Mountains Beyond Mountains

"Damming the Flood is the best source for anyone trying to understand what has happened in Haiti, and it is unfortunately equally valuable for explaining what is happening elsewhere in Latin America. It is meticulously researched, with ample citations to the mainstream press, human rights reports, and experts from many countries and political perspectives."—Brian Concannon, Jr., director of the Institute for Justice & Democracy in Haiti

"Damming the Flooddemonstrates that, contrary to what so many self-proclaimed experts have led us to believe with the steady diet of half-truths and outright lies they have been feeding us, it is indeed possible to 'get Haiti right.' All it takes is a healthy dose of respect for a nation and a people so deserving of it, and an uncompromising devotion to the truth."—Patrick Elie, political activist and former Secretary of State for National Defense, Haiti
Verso, 9781844674664, 512pp.
Publication Date: December 27, 2010
About the Author
Peter Hallward teaches at the Centre for Research in Modern European Philosophy at Kingston University, London. He is the author of several books including Absolutely Postcolonial, Badiou: A Subject to Truth, Out of This World: Deleuze and the Philosophy of Creation, and Damming the Flood.