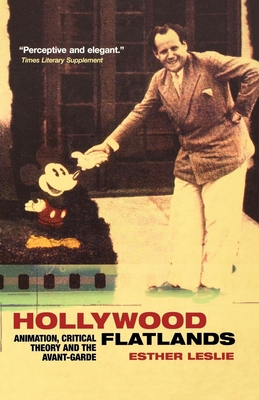 Hollywood Flatlands (Paperback)
Verso, 9781844675043, 362pp.
Publication Date: June 17, 2004
Description
Brings to light the links between animation, avant-garde art and modernist criticism. Focusing on the work of aesthetic and political revolutionaries of the inter-war period, reveals how the animation of commodities can be studied as a journey into modernity in cinema.
About the Author
Esther Leslie is a lecturer in English and Humanities at Birkbeck College, London. She is the author of "Walter Benjamin: Overpowering Conformism" and sits on the editorial boards of "Historical Materialism," "Radical Philosophy" and "Revolutionary History."
Praise For Hollywood Flatlands…
"A vital new book."—ASIFA

"In an age when the Walt Disney Co ... is completely lost to sober cultural debate, it is not insignificant to remember that, quite recently, the opposite was the case."—Los Angeles Times

"This is about much more than the House of Mouse, tracing with a deft hand the aesthetic precursors of film animation in the work of Hans Richter, Walter Ruttman and Dziga Vertov."—Radical Philosophy

"In this incisive and profound study, you find such classic subjects as Adolph Hitler, Charlie Chaplin, Leon Trotsky, Mickey Mouse, Nazism, Leni Riefenstahl, Theodor W. Adorno, Sergei M. Eisenstein, Dumbo, Betty Boop, the Class Struggle, Piet Mondrian, Walter Benjamin and Walt Disney (along with much, much more)."—Giannalberto Bendazzi

"Brash and erudite, Hollywood Flatlands treats animated cartoons as an avant-garde taste and anti-illusionism as a Modernist problematic."—London Review of Books

"Perceptive and elegant."—Times Literary Supplement

"Once in a long while, a book appears that meets all the high standards of scholarship. In the field of animation, Leslie's Hollywood Flatlands is that work ... groundbreaking."—Choice, A Choice Outstanding Academic Title of 2003
Advertisement