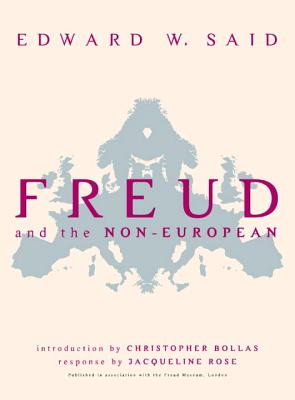 Freud and the Non-European (Paperback)
Verso, 9781844675111, 84pp.
Publication Date: September 17, 2004
Other Editions of This Title:
Hardcover (4/17/2003)
* Individual store prices may vary.
Description
Using an impressive array of material from literature, archaeology and social theory, Edward Said explores the profound implications of Freud's "Moses and Monotheism" for Middle-East politics today. The resulting book reveals Said's abiding interest in Freud's work and its important influence on his own.
He proposes that Freud's assumption that Moses was an Egyptian undermines any simple ascription of a pure identity, and further that identity itself cannot be thought or worked through without the recognition of the limits inherent in it. Said suggests that such an unresolved, nuanced sense of identity might, if embodied in political reality, have formed, or might still form, the basis for a new understanding between Jews and Palestinians. Instead, Israel's relentless march towards an exclusively Jewish state denies any sense of a more complex, inclusive past.
About the Author
Edward W. Said (1935 2003) was University Professor of English and Comparative Literature at Columbia. A member of the American Academy of Arts and Sciences, the Royal Society of Literature and of Kings College Cambridge, his celebrated works include "Orientalism," "The End of the Peace Process," "Power, Politics and Culture," and the memoir "Out of Place." He is also the editor, with Christopher Hitchens, of "Blaming the Victims," published by Verso. "New Left Review" published an obituary in Nov Dec 2003.

Jacqueline Rose is Professor of English at Queen Mary University of London. Her books include "Sexuality in the Field of Vision";" The Question of Zion "; and the novel "Albertine.""
Praise For Freud and the Non-European…
"The kind of intellectual and moral subtlety that Said calls for is quickly trampled upon as nations are made and remade. But if it doesn't shape momentous events, it does help record them more scrupulously. Said's influence grows more fruitfully (if slowly) on fellow academics and writers, who can no longer hope to explain the contemporary world by putting the adjective 'ancient' before the noun 'hatred'; they have to work towards a better sense of the ever-changing historical conditions under which identities appear so eternal."—Guardian

"Said's treatment is though-provoking and addresses complex issues surrounding a work composed near the end of Freud's lifetime. Said provides an intriguing critique of Freud's work that is complemented by Rose's commentary."—Multicultural Review

"His reading of Freud's reading of the history of the Jewish people is undeniably brilliant, and persuades the reader yet further that the attempts by the Likudniks and fundamentalist Zionists to harden Judaism into one particular model of Zionism tied to one particular plot of land is both intellectually flawed and a betrayal of Judaism's pluralist history."—Times Literary Supplement

"I heard ... Edward Said give Freud and the Non-European as a lecture at the Freud Museum in London ... now it stands in grief and memory of that dear, good and great man as my pre-eminent book of the year."—Tom Paulin, Guardian, Books of the Year 2003

"The voice of the late Edward Said can still be heard in all its trenchant vitality."—Marina Warner, Irish Times, Books of the Year 2003
or
Not Currently Available for Direct Purchase