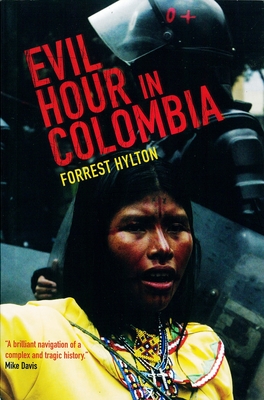 Evil Hour in Colombia (Paperback)
Verso, 9781844675517, 174pp.
Publication Date: October 17, 2006
* Individual store prices may vary.
Description
Colombia is the least understood of Latin American countries. Its human tragedy, which features terrifying levels of kidnapping, homicide and extortion, is generally ignored or exploited. In this urgent new work Forrest Hylton, who has extensive first-hand experience of living and working in Colombia, explores its history of 150 years of political conflict, characterized by radical-popular mobilization and reactionary repression.

Evil Hour in Colombia shows how patterns of political conflict, from the mid-nineteenth century to today's guerilla narco-traffickers and paramilitaries, explain the wear currently destroying Colombian lives, property, communities and territory. In doing so, it traces how Colombia's "coffee capitalism" gave way to the cattle and cocaine republic of the 1980s, and how land, wealth and power have been steadily accumulated by the light-skinned top of the social pyramid through a brutal combination of terror, expropriation and economic depression.
About the Author
Forrest Hylton is a researcher in history at New York University. He is an editor of and contributor to Ya es otro tiempo el presente: Cuatro momentos de insurgencia indígena, 2nd edition, and the co-author, with Sinclair Thomson, of Revolutionary Horizons: Popular Struggle in Bolivia.
Praise For Evil Hour in Colombia…
"Colombia's war-without-end has been sustained by US intervention and subsidized by our own ignorance and indifference to the fate of this great country. Evil Hour in Colombia is a brilliant investigation of a complex and tragic history, as well as an eloquent indictment of Washington's policies."—Mike Davis

"A corrective to those servants of empire who would have us believe that the main threat facing Latin America today is left-wing populism, Forrest Hylton's Evil Hour in Colombia describes in alarming detail the real danger to the region: the spread of paramilitarism, which in Colombia has grown beyond its rural death-squads roots to graft itself into the highest branches of government, crime, and society. This book is an exacting portrait of the face of American 'hard power' in the Andes, a must read for anyone interested in what awaits the rest of the world if Washington's power remains unchecked."—Greg Grandin
or
Not Currently Available for Direct Purchase