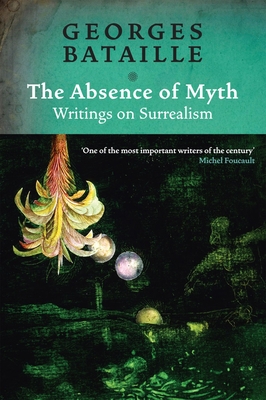 The Absence of Myth
Writings on Surrealism
Paperback

* Individual store prices may vary.
Description
For Bataille, the absence of myth had itself become the myth of the modern age. In a world that had lost the secret of its cohesion, Bataille saw surrealism as both a symptom and a beginning of an attempt to address this loss. His writings on this theme are the result of a profound reflection in the wake of World War Two.

The Absence of Myth is the most incisive study yet made of surrealism, insisting on its importance as a cultural and social phenomenon with far-reaching consequences. Clarifying Bataille's links with the surrealist movement, and throwing revealing light on his complex and greatly misunderstood relationship with Andre Breton, The Absence of Myth shows Bataille to be a much more radical figure than his postmodernist devotees would have us believe: a man who continually tried to extend Marxist social theory; a pessimistic thinker, but one as far removed from nihilism as can be.
Praise For The Absence of Myth: Writings on Surrealism…
"One of the most original and unsettling of those thinkers who, in the wake of Sade and Nietzsche, have confronted the possibility of thought in a world that has lost its myth of transcendence."
—Peter Brooks, New York Times Book Review

"Bataille has survived the death of God."
—Jean-Paul Sartre

"Richardson's readable and accurate translations are carefully annotated, making this a useful collection for English readers."
—Library Journal

"The book is never less than fascinating and reveals Bataille as a wit as well as a thinker."
—Times Higher Education Supplement

"An illuminating historical document."
—Literary Review

"Challenging and terrifying."
—Radical Philosophy
Verso, 9781844675609, 224pp.
Publication Date: October 17, 2006
About the Author
Georges Bataille, French essayist and novelist, was born in 1897. He converted to Catholicism, then to Marxism, and was interested in psychoanalysis and mysticism. As curator of the municipal library in Orleans, he led a relatively simple life, although he became involved, usually on the fringes, with the surrealist movement. He founded the literary review Critique in 1946, which he edited until his death in 1962, and was also a founder of the review Documents, which published many of the leading surrealist writers. His writing is a mixture of poetry and philosophy, fantasy and history, and his first novel, Story of the Eye, was written under the pseudonym of Lord Auch. Bataille's other works include the novels Blue of Noon and L'Abbé C, and the volumes of essays Eroticism and Literature and Evil.

Michael Richardson is a widely published critic, editor, and translator of works on surrealism including Georges Bataille's The Absence of Myth: Writings on Surrealism. Other books he has edited and/or translated include Refusal of the Shadow: Surrealism and the Caribbean and The Dedalus Book of Surrealism (The Identity of Things). Currently he is a visiting fellow in the Centre for Cultural Studies at Goldsmiths, University of London.
or
Not Currently Available for Direct Purchase