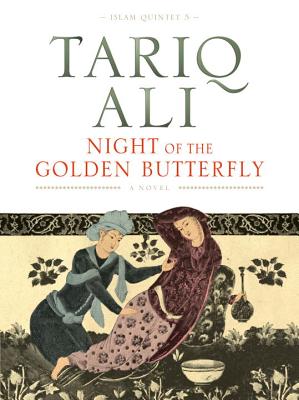 Night of the Golden Butterfly
Hardcover

* Individual store prices may vary.
Other Editions of This Title:
Paperback (7/7/2015)
Paperback (10/18/2010)
Description
Night of the Golden Butterfly concludes the Islam Quintet—Tariq Ali's much lauded series of historical novels, translated into more than a dozen languages, that has been twenty years in the writing. Completing an epic panorama that began in fifteenth-century Moorish Spain, the latest novel moves between the cities of the twenty-first century, from Lahore to London, from Paris to Beijing. The narrator is rung one morning and reminded that he owes a debt of honour. The creditor is Mohammed Aflatun—known as Plato—an irascible but gifted painter living in a Pakistan where "human dignity has become a wreckage." Plato, who once specialized in stepping back from the limelight, now wants his life story written. As the tale unravels we meet Plato's London friend Alice Stepford, now a leading music critic in New York; Mrs. "Naughty" Latif, the Islamabad housewife whose fondness for generals leads to her flight to the salons of intellectually fashionable Paris, where she is hailed as the Diderot of the Islamic world; and there's Jindie, the Golden Butterfly of the title, the narrator's first love. Interwoven with this chronicle of contemporary life is the turbulent history of Jindie's family. Her great forebear, Dù Wénxiù, led a Muslim rebellion in Yunnan in the nineteenth century and ruled the region from his capital Dali for almost a decade, as Sultan Suleiman. Night of the Golden Butterfly reveals Ali in full flight, at once imaginative and intelligent, satirical and stimulating.
Praise For Night of the Golden Butterfly…
"Ali spins metaphors, re-establishes certain truths, shines a light on issues shrouded in ignorance. He enthralls, entertains, instructs. This is high art."—Le Figaro

"A richly woven tapestry that merits comparison with Naguib Mahfouz's Cairo Trilogy."—Kirkus Reviews

"Tales of anguish, longing, lust, and love ... Ali paints a vivid picture of a fading world."—New York Times Book Review

"Grippingly well told, brilliantly paced ... a narrative for our time."—Edward Said

"If Pakistan is a land of untold stories, whispered conspiracy theories and closed-door mutinies, then thank heavens for Tariq Ali, whose access to its innermost secret chambers has made him the country's finest historian and critic."—Fatima Bhutto, New Statesman

"All human frailty and nobility is here—an imaginative tour de force."—Sunday Telegraph

"Ali has satisfyingly and entertainingly concluded his Islam Quintet, a brilliant project unearthing the intellectual, sexual, artistic, and political histories heretofore kept out of mainstream conversation by both conservative Islamists and their former allies, and current enemies, in the West."—Charles Demers, Georgia Straight

"Ali pays perfect attention to detail, reminding the reader of the merits of Naguib Mahfouz's Cairo Trilogy. Whether describing the bonds of friendship, the sights and sounds of Lahore or the state of Fatherland in the throes of a military dictatorship, the writer's grip on detail never slackens."—Karachi Herald

"Offers great insight into the history and culture of the Muslim world."—Mark Knoblauch, Booklist

"Wonderfully exuberant and mischievous... [a] jewel box of a novel."—Aamer Hussein, Independent

"A novelist of distinction ... Ali offers a persuasive account of the corruption of contemporary Pakistan, especially the brutal sexual politics, and his wry, ruminative account of lifelong friendship rings with truth."—Michael Arditti, Daily Mail
Verso, 9781844676118, 288pp.
Publication Date: April 1, 2010
About the Author
Tariq Ali is a writer and filmmaker. He has written more than a dozen books on world history and politics--including "Pirates of the Caribbean," "Bush in Babylon," "The Clash of Fundamentalisms" and "The Obama Syndrome"--as well as five novels in his Islam Quintet series and scripts for the stage and screen. He is an editor of the "New Left Review" and lives in London.
or
Not Currently Available for Direct Purchase