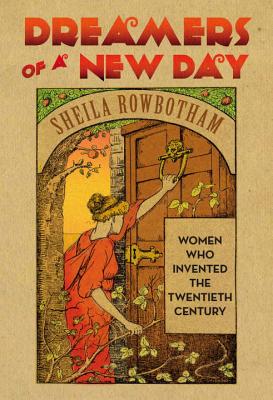 Dreamers of a New Day
Women Who Invented the Twentieth Century
Hardcover

* Individual store prices may vary.
Other Editions of This Title:
Paperback (7/1/2011)
Description
Amid the growth of globalized trade, mass production, immigration and urban slums that dominated the period from the 1880s to the onset of the First World War, an awakening was taking place among American and British women. Across the Atlantic and across political boundaries—anarchists to liberals, feminists and non-feminists—female pioneers shared a sense that social change was possible, and acted upon that belief. Dreamers of a New Day explores a period, from the belle époque to the roaring twenties, when women overturned social norms and assumptions as they struggled to define themselves as individuals. Forming broad coalitions and movements, they transformed the conditions of their own lives, decades before the intellectuals of the 1960s conceptualized "everyday life" as an arena for radical activity.

Drawing on a wealth of original research, Sheila Rowbotham has written a groundbreaking new history examining how women came to be modern. Challenging existing conceptions of citizenship and culture, from ethical living to consumerism, sexuality to democracy, these dreamers shaped many of the issues that remain at the forefront of twenty-first-century life.
Praise For Dreamers of a New Day: Women Who Invented the Twentieth Century…
"Rowbotham has a marvellous gift for explication and an eye for the illuminating quotation ... readers of this ambitious and eloquent book will agree with Rowbotham's tough-minded conclusion: that in women's ongoing effort to reconcile the personal and the political, 'there is no automatic accretion of improvement,' but the need to reinvent utopia in every era."—Elaine Showalter, Daily Telegraph

"As the 21st century falters forward with faith wars and economic collapse, women need to be at the forefront of reimagining our world. This book is a timely reminder that we have been here before."—Jeanette Winterson, Times

"Exhilarating ... admirably lucid ... Reading about the wild hopes of these early 20th-century pioneers, you cannot fail to be moved by the sheer exuberance of their imaginations."—Kathryn Hughes, Guardian

"Dreamers of a New Day is crowded, lively and inspiring ... Rowbotham's book is a tribute to women's faith in the possible but also to her own unquenchable belief in women."—Alison Light, Independent

"Dreamers of a New Day is short but vast in scope ... [its] an unusual work, utterly unlike anything else appearing at the moment under the heading 'feminism,' and for that reason it is important."—Melissa Benn, New Statesman

"Written lucidly and with characteristic generosity."—Times Higher Education

"Rowbotham does an excellent job of reminding the reader of the historical context of these women's lives."—Daphne Spain, Times Literary Supplement

"A revelatory new history."—Kerry Howley, Bookforum

"This book should still inspire a new generation of dreamers."—Morning Star

"An impeccably researched ... and thoughtful book. [Its] scope is impressive; it touches on nearly every conceivable subject: fashion, socialism, unions, housework, sweatshops, communal utopias, children, consumption, and of course, sex ... It's hard to imagine anyone who wouldn't learn something from this book."—Catherine Ramsdell, PopMatters

"[Dreamers of a New Day] explores the period when women overturned social norms to define themselves as individuals."—Shreveport Times

"Highly recommended."—Choice
Verso, 9781844676132, 311pp.
Publication Date: June 15, 2010
About the Author
Sheila Rowbotham is Honorary Research Fellow in Sociology in the School of Social Sciences within the Faculty of Humanities at Manchester University and Visiting Fellow in the School of Sociology, Politics and International Studies at the University of Bristol. She is also a Fellow of the Royal Society of Arts. Her many books include the James Tait Black-shortlisted "Edward Carpenter: A Life of Liberty and Love," "A Century of Women: The History of Women in Britain and the United States in the Twentieth Century," "Promise Of A Dream: Remembering the Sixties," and "Dreamers of a New Day: Women Who Invented the Twentieth Century." She has written for, among other newspapers, the "Guardian, The Times, The Independent, New Statesman," and "The New York Times." She lives in Manchester.
or
Not Currently Available for Direct Purchase