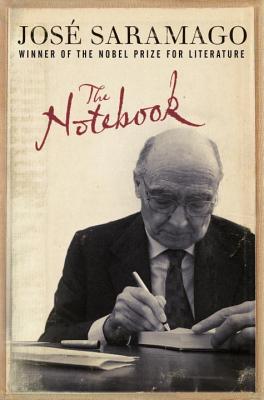 The Notebook (Hardcover)
Verso, 9781844676149, 288pp.
Publication Date: April 6, 2010
Other Editions of This Title:
Paperback (5/1/2011)
* Individual store prices may vary.
Description
Thought-provoking and lyrical, The Notebook records the last year in the life of José Saramago. In these pages, beginning on the eve of the 2008 US presidential election, he evokes life in his beloved city of Lisbon, revisits conversations with friends, and meditates on his favorite authors. Precise observations and moments of arresting significance are rendered with pointillist detail and together demonstrate an acute understanding of our times. Characteristically critical and uncompromising, Saramago dissects the financial crisis, deplores Israel's punishment of Gaza, and reflects on the rise of Barack Obama. The Notebook is a unique journey into the personal and political world of one of the greatest writers of our time.
About the Author
The Portuguese Nobel Laureate Jose? Saramago was a novelist, playwright and journalist. His numerous books, including the bestselling All the Names, Blindness, and The Cave, have been translated into more than forty languages and have established him as one of the world's most influential writers. He died in June 2010.

Umberto Eco is a professor of semiotics at the University of Bologna and the author of Foucault's Pendulum, The Name of the Rose, and other international bestsellers. He lives in Milan, Italy.

Daniel Hahn is a writer, editor, researcher, and translator. His translations include Creole (2002), The Book of Chameleons (2006), My Father's Wives (2008), and Rainy Season (2009), by Angolan novelist Jose? Eduardo Agualusa.
Praise For The Notebook…
"The most gifted novelist alive in the world today."—Harold Bloom

"Saramago is one of Europe's most original and remarkable writers ... His writing is imbued with a spirit of comic inquiry, meditative pessimism and a quietly transforming energy that turns the indefinite into the unforgettable."—Richard Eder, Los Angeles Times

"Saramago is a writer, like Faulkner, so confident of his resources and ultimate destination that he can bring any improbability to life."—John Updike, New Yorker

"In the craft of the sentence, Jose? Saramago is one of the great originals. His prose is a voice that envelops all voices: it is like the universe's immanent murmur ... No one writes quite like Saramago, so solicitous and yet so magnificently free."—Steven Poole, Guardian

"I'm hard pressed to think of another writer who makes me stop as Saramago does, to go back and discover the meaning of history or allegory in all its wild newness."—Julian Evans, Financial Times

"Fascinating and smart and provocative, and a lot of fun to dip into."—New York Times

"The book presents an intelligent twist on the blogs-turned-books phenomenon, proving that the two mediums are compatible beyond social curios and cultural gimmicks ... The Notebook is a unique glimpse into the candid ruminations of one of the most talented living writers."—Flavorwire

"Impenitently enraged and tender."—Umberto Eco

"His blogs... reveal an often sharp, sometimes mischievous, engagement with the world."—Maya Jaggi, Guardian

"A bittersweet delight."—Boyd Tonkin, Independent

"The world is poorer without Saramago, but these notes are a testament to his energy."—Tom Payne, Daily Telegraph

"Given that most blogs that make it to print seem to involve someone sharing too much information about their sex lives, there's something refreshing about Saramago taking the form to a more elevated plain, crafting apercus on all manner of subjects."—Metro

"A provocative miscellany of occasional pieces."—Financial Times

"Cogent, deft and brisk ... the deeper you delve, a broad, humane political philosophy begins to emerge."—Sunday Herald (Glasgow)

"Saramago enjoys picking up a passing thought or an incident and running with it, confident in his political outrage, calm in his appreciation of friends, considered in his aphoristic criticism of culture."—Times

"One of the fine things about The Notebook is that it prompts a reappraisal of Saramago's fiction ... One can admire the enormous risk Saramago has taken. Rather than place himself and his words above the collective shout, he let himself become a part of the roar, an equal standing and writing citizen. This is the gift he gives us in these blog essays."—Quarterly Conversation
or
Not Currently Available for Direct Purchase