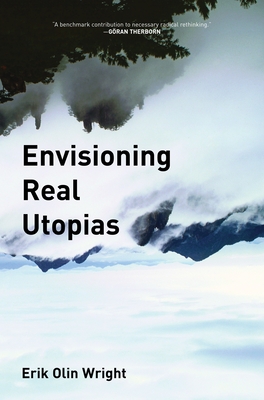 Envisioning Real Utopias
Hardcover

* Individual store prices may vary.
Other Editions of This Title:
Paperback (6/14/2010)
Description
Rising inequality of income and power, along with the recent convulsions in the finance sector, have made the search for alternatives to unbridled capitalism more urgent than ever. Yet there has been a global retreat by the Left: on the assumption that liberal capitalism is the only game in town, political theorists tend to dismiss as utopian any attempt to rethink our social and economic relations. As Fredric Jameson first argued, it is now easier for us to imagine the end of the world than an alternative to capitalism.

Erik Olin Wright's Envisioning Real Utopias is a comprehensive assault on the quietism of contemporary social theory. Building on a lifetime's work analyzing the class system in the developed world, as well as exploring the problem of the transition to a socialist alternative, Wright has now completed a systematic reconstruction of the core values and feasible goals for Left theorists and political actors. Envisioning Real Utopias aims to put the social back into socialism, laying the foundations for a set of concrete, emancipatory alternatives to the capitalist system. Characteristically rigorous and engaging, this will become a landmark of social thought for the twenty-first century.
Praise For Envisioning Real Utopias…
"[Wright] builds a strong case for an emancipatory social science."—E. Kingsolver, Choice

"A benchmark contribution to necessary radical thinking."—Göran Therborn

"Encyclopedic in its breadth, daunting in its ambition, this is the culmination of Erik Olin Wright's revamping of Marxism ... Only a thinker of Wright's genius could sustain such a badly needed political imagination without losing analytical clarity and precision."—Michael Burawoy, UC Berkeley

"Hugely rich and stimulating ... An incisive diagnosis of the harms done by capitalism; a masterful synthesis of the best work in political sociology and political economy over the past thirty years; and innovative theoretical framework for conceptualizing both the goals of progressive change and the strategies for their achievement; and inspiring survey of actually existing challenges to capitalism that have arisen within capitalism itself; and a compelling essay on the relation between the desirable, the viable and the achievable. Anyone interested in the future of leftist politics has to read this book."—Adam Swift, Balliol College, Oxford

"This book is both a manifesto and a guidebook: an argument for taking institutional design seriously, and a guide to how to do that. It's a book that sociologists will want to read, but also, frankly, that everyone in political theory and philosophy should be reading too."—Crooked Timber

"A fascinating book."—Guy Aitchison, openDemocracy
Verso, 9781844676187, 288pp.
Publication Date: June 14, 2010
About the Author
Erik Olin Wright is Vilas Distinguished Professor of Sociology at the University of Wisconsin. He is the author of many books, including Classes, Interrogating Inequality, Class Counts, Deepening Democracy (with Archon Fung), and Envisioning Real Utopias. For more information on Envisioning Real Utopias and the Real Utopias project, and to access book content, please visit realutopias.org.
or
Not Currently Available for Direct Purchase