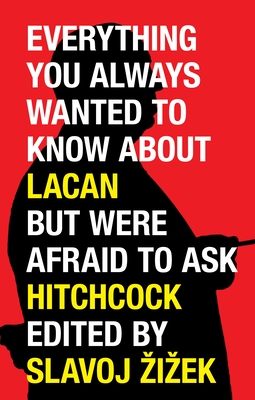 Everything You Always Wanted to Know About Lacan But Were Afraid to Ask Hitchcock (Paperback)
Verso, 9781844676217, 300pp.
Publication Date: August 3, 2010
* Individual store prices may vary.
Description
The contributors bring to bear an unrivaled enthusiasm and theoretical sweep on the entire Hitchcock oeuvre, analyzing movies such as Rear Window and Psycho. Starting from the premise that 'everything has meaning,' the authors examine the films' ostensible narrative content and formal procedures to discover a rich proliferation of hidden ideological and psychic mechanisms. But Hitchcock is also a bait to lure the reader into a serious Marxist and Lacanian exploration of the construction of meaning.

An extraordinary landmark in Hitchcock studies, this new edition features a brand-new essay by philosopher Slavoj Žižek, presenter of Sophie Fiennes's three-part documentary The Pervert's Guide to Cinema.
About the Author
Slavoj Žižek is a Slovenian philosopher and cultural critic. He is a professor at the European Graduate School, International Director of the Birkbeck Institute for the Humanities, Birkbeck College, University of London, and a senior researcher at the Institute of Sociology, University of Ljubljana, Slovenia. His books include Living in the End Times, First as Tragedy, Then as Farce, In Defense of Lost Causes, four volumes of the Essential Žižek, and many more.

Fredric Jameson is Distinguished Professor of Comparative Literature at Duke University. The author of numerous books, he has over the last three decades developed a richly nuanced vision of Western culture's relation to political economy. He was a recipient of the 2008 Holberg International Memorial Prize. He is the author of many books, including Postmodernism, Or, The Cultural Logic of Late Capitalism, The Cultural Turn, A Singular Modernity, The Modernist Papers, Archaeologies of the Future, Brecht and Method, Ideologies of Theory, Valences of the Dialectic, The Hegel Variations and Representing Capital.

Renata Salcel is a philosopher and sociologist. She is Senior Researcher at the Institute of Criminology, University of Ljublijana, Slovenia, and Centennial Professor at the London School of Economics. Her previous books include The Spoils of Freedom and, edited with Slavoj Žižek, Gaze and Voice as Love Objects.

Alenka Zupan?i? is a researcher at the Institute of Philosophy in the Slovene Academy of Sciences, Ljublijana