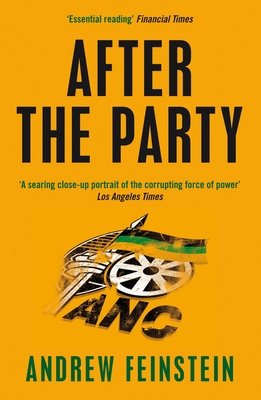 After the Party
Corruption, the ANC and South Africa's Uncertain Future
Paperback

* Individual store prices may vary.
Description
After the Party is the explosive story of the power struggles dominating South African politics and a crucial analysis of the ANC's record in power. Andrew Feinstein, a former ANC member of parliament, uncovers a web of corruption to rival Watergate, revealing a web of concealment and corruption involving senior politicians, officials and figures at the very highest level of South African politics. With an insider's account of the events surrounding the contentious trial of South Africa's colourful President, Jacob Zuma, and the ongoing tragedy in Zimbabwe, After the Party has been acclaimed as the most important book on South Africa since the end of apartheid.
Praise For After the Party: Corruption, the ANC and South Africa's Uncertain Future…
"The most important book about South Africa since the demise of apartheid in the early 1990s ... an account which makes John Grisham plots look wimpish."—Scotsman

"For those contemplating a first journey into the murky world of South African politics, there can be few better guides than Andrew Feinstein. This book by the lawyerly figure who would come to be known as the ANC's 'Mr Clean' ... charts a giddy ascent from political newcomer to euphoric MP and on to disillusioned critic and exile."—Independent

"With wrenching anger and painstaking care, Feinstein's new book describes how graft has infected [South Africa's] new establishment."—The Economist

"Essential reading."—Financial Times

"A searing close-up portrait of the corrupting force of power."—The Los Angeles Times

"This important and brave book illustrates the extent to which South Africa's multibillion-dollar arms deal has undermined the rule of law, accountability and constitutionality in the country. It provides compelling evidence the corruption linked to the deal and the mishandling of the AIDS pandemic marked the point at which our young democracy lost its moral compass. It also speaks to the virtues of transparent, accountable politics of principle that is needed in South Africa and so much of the world."—Archbishop Desmond Tutu
Verso, 9781844676279, 308pp.
Publication Date: May 31, 2010
About the Author
Andrew Feinstein is a former ANC Member of Parliament. He has written extensively for the Guardian, The New York Times, The Wall Street Journal, the Washington Post, and Newsweek, among others, and is a regular commentator on CNN and Al Jazeera. He lives in London.
or
Not Currently Available for Direct Purchase