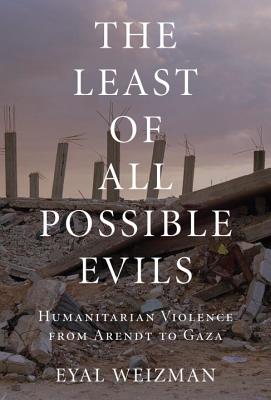 The Least of All Possible Evils
Humanitarian Violence from Arendt to Gaza
Hardcover

* Individual store prices may vary.
Other Editions of This Title:
Paperback (10/17/2017)
Description
Groundbreaking exploration of the philosophy underpinning Western humanitarian intervention

The principle of the "lesser evil"—the acceptability of pursuing one exceptional course of action in order to prevent a greater injustice—has long been a cornerstone of Western ethical philosophy. From its roots in classical ethics and Christian theology, to Hannah Arendt's exploration of the work of the Jewish Councils during the Nazi regime, Weizman explores its development in three key transformations of the problem: the defining intervention of Médecins Sans Frontières in mid-1980s Ethiopia; the separation wall in Israel-Palestine; and international and human rights law in Bosnia, Gaza and Iraq. Drawing on a wealth of new research, Weizman charts the latest manifestation of this age-old idea. In doing so he shows how military and political intervention acquired a new "humanitarian" acceptability and legality in the late twentieth and early twenty-first centuries.
Praise For The Least of All Possible Evils: Humanitarian Violence from Arendt to Gaza…
"Eyal Weizman's work has become an indispensable source of both insight and guidance in these difficult times. He understands the evolving dynamics of war and sovereignty better than anyone."
—Paul Gilroy, Professor of Social History, London School of Economics

"This is a wonderful book, written with clarity, precision, and passion. It takes the reader into the heart of contemporary necro-politics and calculations of 'lesser evils' by powerful states and their humanitarian accomplices. Deeply learned and informative on every page, this is essential reading for anyone who cares about contemporary conditions of warfare and state-controlled violence; about the spatial practices that reinforce and regulate systemic forms of violence, such as the calculation of minimal requirements for human survival. In the spirit of Doctors Without Borders, Weizman is an architect without borders, at home in political philosophy, military history, just war theory, and the spatial systems of controlled, calculated violence that constitute Israel–Palestine, and much of the world today."
—W. J. T. Mitchell, Professor of English and Art History, University of Chicago

"Originality, ingenuity, and brilliance do not even begin to do justice to this amazing study, this architectural forensics of battle and human rights as pieced together from the study of the ruin and the terrifying logic of 'the lesser evil.' How astonishing to see our new world this new way."
—Michael Taussig, Professor of Anthropology, Columbia University

"Weizman continues to offer daring social and political commentary, questioning taken-for-granted structures and processes that perpetuate oppression and violence."
—Legacy Russell, BOMB Magazine
Verso, 9781844676477, 208pp.
Publication Date: June 19, 2012
About the Author
Eyal Weizman is Professor of Spatial and Visual Cultures at Goldsmiths, University of London, where he directs the Centre for Research Architecture and the European Research Council funded project Forensic Architecture. He is also a founder member of the collective Decolonizing Architecture Art Residency (DAAR) in Bethlehem, Palestine. He is the author of Hollow Land, The Least of All Possible Evils, and co-editor of A Civilian Occupation. He lives in London.
or
Not Currently Available for Direct Purchase