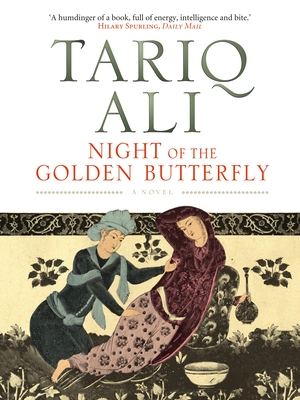 Night of the Golden Butterfly
A Novel (The Islam Quintet)
Paperback

* Individual store prices may vary.
Other Editions of This Title:
Paperback (7/7/2015)
Hardcover (4/1/2010)
Description
Completing an epic panorama that began in fifteenth-century Moorish Spain, Night of the Golden Butterfly moves between the cities of the twenty- first century, from Lahore to London, from Paris to Beijing. The narrator is rung one morning and reminded that he owes a debt of honor. The creditor is Mohammed Aflatun – known as Plato – an irascible but gifted painter living in a Pakistan where "human dignity has become a wreckage." Plato, who once specialized in stepping back into the limelight, now wants his life story written.

As the tale unravels we meet Plato's London friend Alice Stepford, now a leading music critic in New York; Mrs. "Naughty" Latif, the Islamabad housewife whose fondness for generals forces her to flee to the salons of intellectually fashionable Paris; and there's Jindie, the Golden Butterfly of the title, the narrator's first love. Interwoven with this chronicle of contemporary life is the turbulent history of Jindie's family. Her great forebear, Dù Wénxiù, led a Muslim rebellion in Yunnan in the nineteenth century and ruled the region for almost a decade, as Sultan Suleiman. Night of the Golden Butterfly reveals Ali in full flight, at once imaginative and intelligent, satirical and stimulating.
Praise For Night of the Golden Butterfly: A Novel (The Islam Quintet)…
"A humdinger of a book, full of energy, intelligence and bite." —Hilary Spurling, Daily Mail

"Wonderfully exuberant and mischievous ... deftly intertwines strands of Chinese-Muslim with Indo-Pakistani history ... [A] jewel box of a novel." —Independent

"If Pakistan is a land of untold stories, whispered conspiracy theories and closed-door mutinies, then thank heavens for Tariq Ali, whose access to its innermost secret chambers has made him the country's finest historian and critic." —Fatima Bhutto, New Statesman

"Witty and barbed, a delight to read." —Oregonian

"Audacious ... Islamic politics and faith, the mille-feuille of layers that constitute belief, and the salty real world behind closed doors, are all caught starkly by Ali's uneffusive prose. For once 'unputdownable' is the case." —Tom Adair, Scotsman

"Bold, clever, full of multilingual jokes, and replete with socio-historical detail." —Madeleine Clements, Times Literary Supplement

"Offers great insight into the history and culture of the Muslim world." —Booklist

"A novelist of distinction ... Ali offers a persuasive account of the corruption of contemporary Pakistan, especially the brutal sexual politics, and his wry, ruminative account of lifelong friendship rings with truth." —Michael Arditti, Daily Mail
Verso, 9781844676545, 288pp.
Publication Date: October 18, 2010
About the Author
Tariq Ali is a writer and filmmaker. He has written more than a dozen books on world history and politics – including Pirates of the Caribbean, Bush in Babylon, The Clash of Fundamentalisms and The Obama Syndrome – as well as five novels in his Islam Quintet series and scripts for the stage and screen. He is an editor of the New Left Review and lives in London.
or
Not Currently Available for Direct Purchase