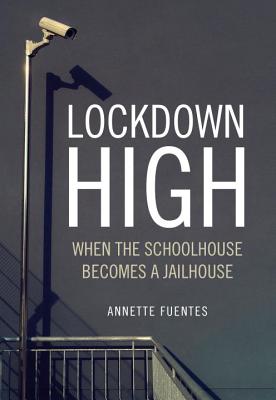 Lockdown High
When the Schoolhouse Becomes a Jailhouse
Hardcover

* Individual store prices may vary.
Other Editions of This Title:
Paperback (2/12/2013)
Description
In the dozen years since the shootings at Columbine High School, hysteria has distorted the media's coverage of school violence and American schools' responses to it. School violence has actually been falling steadily throughout the last decade, and yet schools across the country have never been more preoccupied with security.

This climate of fear has created ripe conditions for the imposition of unprecedented restrictions on young people's rights, dignity, and educational freedoms. In what many call the school-to-prison pipeline, the policing and practices of the juvenile justice system increasingly infiltrate the schoolhouse. These "Zero tolerance" measures push the most vulnerable and academically needy students out of the classroom and into harm's way.

Investigative reporter Annette Fuentes visits schools across America and finds metal detectors and drug tests for aspirin, police profiling of students with no records, arbitrary expulsions, teachers carrying guns, increased policing, and all-seeing electronic surveillance. She also reveals the many industries and "experts" who have vested interests in perpetuating the Lockdown High model. Her moving stories will astonish and anger readers, as she makes the case that the public schools of the twenty-first century reflect a society with an unhealthy fixation on crime, security and violence.
Praise For Lockdown High: When the Schoolhouse Becomes a Jailhouse…
"[The] penetration of prison culture into daily life and particularly schools has been brilliantly traced by US writer Annette Fuentes in Lockdown High"—Bidisha, Guardian

"[A] well-argued book ... packed with the anecdotally eye-catching and hard, persuasive data. Fuentes's detailed and daunting investigation ... is a wakeup call."—Publishers Weekly

"Examples of zero-tolerance policies taken to absurd levels are attention-grabbing, but the real story, spelled out [in Lockdown High] with clarity and a touch of anger, is a disturbing one that should concern members of school boards, principals, teachers and parents."—Kirkus Reviews

"[A] chilling report ... extremely well-written."—Library Journal

"Lockdown High is a wake up call for Americans who care about how schools treat children and young people ... This book is a must read for school boards, school administrators and parents."—Rodney Skager

"Fuentes' style is smart and accessible, her material both revelatory and relevant—it's not only parents who will stay up late reading Lockdown High, but anyone interested in where we are headed."—Nell Bernstein

"Lockdown High is a widely accessible overview of the trends in school discipline, surveillance, and policing. As such, Fuentes brings research in the education world to a broad audience and thereby widens the awareness of and potential resistance to the lockdown model."—Rachel Garver, Teachers College Record
Verso, 9781844676811, 240pp.
Publication Date: March 14, 2011
About the Author
Annette Fuentes is a freelance writer and reporter. She was a founding online editor of a nonprofit internet news organization, The Bay Citizen, from 2010 to 2011 and prior to that, the managing editor of New American Media, and a reporter for the New York Daily News and New York Newsday. She has taught at Columbia University's Graduate School of Journalism and has written for, among others publications, the New York Times, The Progressive, and USA Today. She lives in the San Francisco Bay Area.
or
Not Currently Available for Direct Purchase