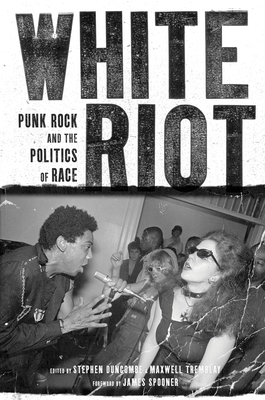 White Riot
Punk Rock and the Politics of Race
Paperback

* Individual store prices may vary.
Description
From the Clash to Los Crudos, skinheads to afro-punks, the punk rock movement has been obsessed by race. And yet the connections have never been traced in a comprehensive way.

White Riot is the definitive study of the subject, collecting first-person writing, lyrics, letters to zines, and analyses of punk history from across the globe. This book brings together writing from leading critics such as Greil Marcus and Dick Hebdige, personal reflections from punk pioneers such as Jimmy Pursey, Darryl Jenifer and Mimi Nguyen, and reports on punk scenes from Toronto to Jakarta.
Praise For White Riot: Punk Rock and the Politics of Race…
"White Riot—this loud, brilliant collection of rants and critical explosions on race, music, and rebellion—has a radical message that goes far beyond punk: in order to build transformative movements and cultures, we first have to reckon with the riots of our own."—Jeff Chang, author of Can't Stop Won't Stop: A History of the Hip-hop Generation and Who We Be: The Colorization of America

"Verso gives us an engaging collection of political essays about race and representation in punk from critics like Greil Marcus to Paul Simonon of the Clash. The book features photos, lyrics, letters, and accessible articles from musicians and academics concerned about the greater issues in revolutionary music."—Kathleen Massara, Flavorpill's 10 Most Anticipated Summer Reads

"It's a banging pit of engagement, and a shocking reminder that no entire book has ever been dedicated to this subject before."—Chris Estey, KEXP 90.3 FM Seattle

"White Riot allows us to view race as contested, complex, always both part and all of the person, the movement, and the story. A punk heart that understands the politics of race in this way isn't 'pure:' it's a messy organ, and it's still beating."—Sara Jaffe, Los Angeles Review of Books

"350 pages of interview excerpts, fanzine articles, and academic essays that won't give you answers so much as give you the power to ask, and consider, even more."—Chris Terry, Razorcake
Verso, 9781844676880, 392pp.
Publication Date: July 18, 2011
About the Author
Stephen Duncombe, an Associate Professor at the Gallatin School of New York University, is the author of Dream and Notes from Underground, editor of the Cultural Resistance Reader, and coeditor (with Maxwell Tremblay) of White Riot.

Maxwell Tremblay writes for Maximumrocknroll, plays drums in the band SLEEPiES, and is a doctoral student in Philosophy at the New School for Social Research. <a href="http://twitter.com/#!/MAXWELLTREMBLAY">Follow Maxwell on Twitter</a> (@maxwelltremblay)

James Spooner lives in Los Angeles. He is the director of Afro-Punk.
or
Not Currently Available for Direct Purchase