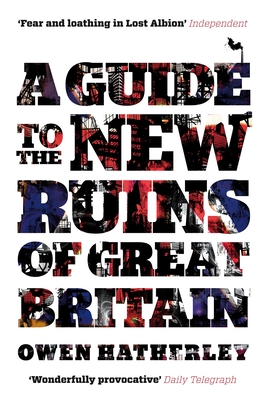 A Guide to the New Ruins of Great Britain (Paperback)
Verso, 9781844677009, 400pp.
Publication Date: July 1, 2011
Other Editions of This Title:
Hardcover (11/8/2010)
* Individual store prices may vary.
Description
Back in 1997, New Labour came to power amid much talk of regenerating the inner cities left to rot under successive Conservative governments. Over the next decade, British cities became the laboratories of the new enterprise economy: glowing monuments to finance, property speculation, and the service industry—until the crash.

In A Guide to the New Ruins of Great Britain, Owen Hatherley sets out to explore the wreckage—the buildings that epitomized an age of greed and aspiration. From Greenwich to Glasgow, Milton Keynes to Manchester, Hatherley maps the derelict Britain of the 2010s: from riverside apartment complexes, art galleries and amorphous interactive "centers," to shopping malls, call centers and factories turned into expensive lofts. In doing so, he provides a mordant commentary on the urban environment in which we live, work and consume. Scathing, forensic, bleakly humorous, A Guide to the New Ruins of Great Britain is a coruscating autopsy of a get-rich-quick, aspirational politics, a brilliant, architectural "state we're in."
About the Author
Owen Hatherley is the author of the acclaimed Militant Modernism, a defense of the modernist movement, and A Guide to the New Ruins of Great Britain. He writes regularly on the political aesthetics of architecture, urbanism and popular culture for a variety of publications, including Building Design, Frieze, the Guardian and the New Statesman. He blogs on political aesthetics at <a href="http://nastybrutalistandshort.blogspot.com/">nastybrutalistandshort.blogspot.com</a>.
Praise For A Guide to the New Ruins of Great Britain…
"Angry, fiercely funny ... . Essential reading for anyone who ever feels their blood start to boil when they hear the word 'regeneration.'"—Hari Kunzru, author of My Revolutions

"An exhilarating book. Owen Hatherley brings to bear a quizzing eye, venomous wit, supple prose, refusal to curry favor, rejection of received ideas, exhaustive knowledge and all-round bolshiness. He travels, self-consciously, in the famous footsteps of J. B. Priestley and Ian Nairn, and there can be no higher praise than to suggest that he proves himself their peer. This book is as much a marker for an era as English Journey and Outrage were."—Jonathan Meades, author of Incest and Morris Dancing

"Hatherley's footloose narrative is driven by a heartfelt anger ... as well as a laudable desire to open people's eyes to the true value of their cities."—PD Smith, Guardian

"A book of finespun rage ... a book that had to be written. Wittily, bitterly, pithily, mostly accurately, Hatherley tells it how it is."—Rowan Moore, Observer

"This surgical evisceration of the cityscapes of Blairism is required reading."—Hugh Pearman, RIBA Journal

"Wonderfully provocative."—Rupert Christiansen, Daily Telegraph

"Hatherley is always entirely clear about his personal standpoint, so his criticisms never seem unjustified ... A rather bleak undercurrent is tempered by Hatherley's often witty observations and easy-going prose style."—PopMatters

"This is a different kind of Heritage Britain, the kind that the tourists don't usually get to see ... this is also the real Britain, and Hatherley is the most informed, opinionated and acerbic guide you could wish for."—Hugh Pearman, Sunday Times

"Roomy and intellectually sophisticated.. It is bold and original, and it may change how you see British cities."—Andy Beckett, Guardian

"This is fear and loathing in Lost Albion riffed by a quainter version of Hunter S Thompson."—Jay Merrick, Independent

"Painted with a raging energy that is exhilarating ... [It's] political, sinister, sometimes funny."—Gwyn Griffiths, Morning Star

"A serious left-field attempt to provoke thought and argument ... This is an important book that is entirely worthy of the arguments it sets out to provoke."—Patrick Wright, Architecture Today

"Hatherley deserves to be widely read ... he has brought a welcome freshness and honesty to architectural criticsm."—Chris Hall, Icon

"The latest heir to Ruskin ... Hatherley blasts the architectural style of New Labour Britain. Whatever your pet-hate, Hatherley will probably have some enjoyably cruel words for it."—Boyd Tonkin, Independent