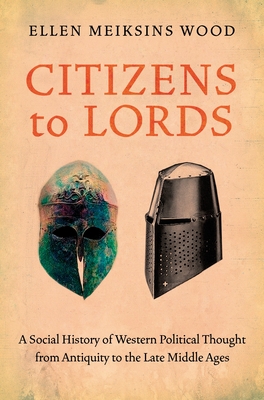 Citizens to Lords
A Social History of Western Political Thought from Antiquity to the Late Middle Ages
Paperback

* Individual store prices may vary.
Other Editions of This Title:
Hardcover (6/17/2008)
Description
In this groundbreaking work, Ellen Meiksins Wood rewrites the history of political theory. She traces the development of the Western tradition from classical antiquity through to the Middle Ages in the perspective of social history—a significant departure not only from the standard abstract history of ideas but also from other contextual methods.

Treating canonical thinkers as passionately engaged human beings, Wood examines their ideas not simply in the context of political languages but as creative responses to the social relations and conflicts of their time and place. She identifies a distinctive relation between property and state in Western history and shows how the canon, while largely the work of members or clients of dominant classes, was shaped by complex interactions among proprietors, labourers and states. Western political theory, Wood argues, owes much of its vigour, and also many ambiguities, to these complex and often contradictory relations.

From the Ancient Greek polis of Plato, Aristotle, Aeschylus and Sophocles, through the Roman Republic of Cicero and the Empire of St Paul and St Augustine, to the medieval world of Averroes, Thomas Aquinas and William of Ockham, Citizens to Lords offers a rich, dynamic exploration of thinkers and ideas that have indelibly stamped our modern world.
Praise For Citizens to Lords: A Social History of Western Political Thought from Antiquity to the Late Middle Ages…
"Few historians of comparative political thought are in the same league as Ellen Wood, who surveys the whole sweep of ancient and medieval thinkers with equal magisterial brilliance of insight."—Professor Paul Cartledge, University of Cambridge

"A challenging analysis, which successfully integrates theory with historical changes. The clarity of the writing makes her account readily accessible to any reader ready to engage a fresh approach to the history of political theory."—Sheldon Wolin

"Meiksins Wood is a rare breed—an academic with the soul of a storyteller. Highly recommended."—Morning Star

"Immensely impressive, bold and erudite ... Meiksins Wood's conclusions are undeniably nuanced, challenging and important ... This book ought to be compulsory reading for us all."—Times Higher Education Supplement
Verso, 9781844677061, 256pp.
Publication Date: August 1, 2011
About the Author
Ellen Meiksins Wood, for many years Professor of Political Science at York University, Toronto, is the author of many books, including Democracy Against Capitalism and, with Verso, The Pristine Culture of Capitalism, The Origin of Capitalism, Peasant-Citizen and Slave, Citizens to Lords, Empire of Capital and Liberty and Property.