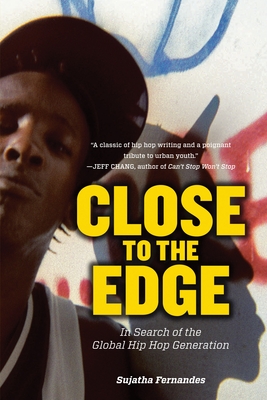 Close to the Edge (Paperback)
In Search of the Global Hip Hop Generation
Verso, 9781844677412, 216pp.
Publication Date: September 12, 2011
* Individual store prices may vary.
Description
At its rhythmic, beating heart, Close to the Edge asks whether hip hop can change the world. Hip hop—rapping, beat-making,b-boying, deejaying, graffiti—captured the imagination of the teenage Sujatha Fernandes in the 1980s, inspiring her and politicizing her along the way. Years later, armed with mc-ing skills and an urge to immerse herself in global hip hop, she embarks on a journey into street culture around the world. From the south side of Chicago to the barrios of Caracas and Havana and the sprawling periphery of Sydney, she grapples with questions of global voices and local critiques, and the rage that underlies both. An engrossing read and an exhilarating travelogue, this punchy book also asks hard questions about dispossession, racism, poverty and the quest for change through a microphone.
About the Author
Sujatha Fernandes is an Associate Professor of Sociology at Queens College and the Graduate Center, City University of New York. She is the author of Cuba Represent! Cuban Arts, State Power, and the Making of New Revolutionary Cultures; Who Can Stop the Drums? Urban Social Movements in Chávez's Venezuela; and Close to the Edge.
Praise For Close to the Edge: In Search of the Global Hip Hop Generation…
"Fernandes brilliantly captures the moment when a global generation curved toward a unifying language and culture and found something that was both much more and much less than what it was searching for. Close to the Edge is a beautifully told tale of the collective and the personal, the cultural and political—a classic of hip hop writing and a poignant tribute to urban youth."—Jeff Chang, author of Can't Stop Won't Stop: A History of the Hip-Hop Generation

"Fernandes chronicles her search for a global hip hop movement through an earnest and self-reflexive approach to storytelling that is equally concerned with history and social issues. She offers fascinating and detailed snapshots of the hip-hop scenes in Sydney, Chicago, Havana and Caracas while asking broad and crucial questions about the intersections between music, identities, and politics. Close to the Edge is both thought provoking and a pleasure to read."—Raquel Z. Rivera, author of New York Ricans from the Hip Hop Zone, and editor of the anthology Reggaeton