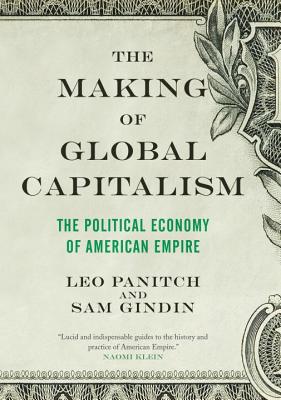 The Making of Global Capitalism
The Political Economy Of American Empire
Hardcover

* Individual store prices may vary.
Other Editions of This Title:
Paperback (10/8/2013)
Description
The all-encompassing embrace of world capitalism at the beginning of the twenty-first century was generally attributed to the superiority of competitive markets. Globalization had appeared to be the natural outcome of this unstoppable process. But today, with global markets roiling and increasingly reliant on state intervention to stay afloat, it has become clear that markets and states aren't straightforwardly opposing forces.

In this groundbreaking work, Leo Panitch and Sam Gindin demonstrate the intimate relationship between modern capitalism and the American state, including its role as an "informal empire" promoting free trade and capital movements. Through a powerful historical survey, they show how the US has superintended the restructuring of other states in favor of competitive markets and coordinated the management of increasingly frequent financial crises.

The Making of Global Capitalism, through its highly original analysis of the first great economic crisis of the twenty-first century, identifies the centrality of the social conflicts that occur within states rather than between them. These emerging fault lines hold out the possibility of new political movements transforming nation states and transcending global markets.
Praise For The Making of Global Capitalism: The Political Economy Of American Empire…
"Lucid and indispensable guides to the history and practice of American Empire."—Naomi Klein, award-winning journalist and author of The Shock Doctrine

"It's the best left look at the U.S. empire I've seen. The picture of the U.S. as having the long-term dynamism and coherence of the global system 'front of mind', as the biz types say, makes far more sense than, say, the Chomskyism that pervades much of the left. They have few rivals and no betters in analyzing the relations between politics and economics, between globalization and American power, between theory and quotidian reality, and between crisis and political possibility."—Doug Henwood, editor and publisher of Left Business Observer

"Combining the ferocity of investigative reporters, sophisticated skills in interpreting the historical archive, and a profound grasp of theory, Leo Panitch and Sam Gindin provide an astonishingly illuminating account of the making of global capitalism through the organization of a global financial system under US hegemony since World War II. If we are, as it seems, destined to live under the dictatorship of the world's central bankers then it is vital for everyone to know how this came about and what the current fault lines might be that hold out prospects for strong anti-capitalist struggles to emerge. A must read for everyone who is concerned about where the future of capitalism might lie."—David Harvey, CUNY Graduate Center, author of A Brief History of Neoliberalism

"Bringing new understanding to the dominant global role of the United States from World War I onward in business and economic policymaking, The Making of Global Capitalism advances an original perspective on the forces that have created our current epoch of neoliberal globalization. This is a major work in political economy—rigorously researched, compellingly written, and bursting with fresh insights on nearly every page."—Robert Pollin, Professor of Economics and Co-Director of the Political Economy Research Institute (PERI), University of Massachusetts-Amherst

"Panitch and Gindin give us a history of global capitalism that brings together what has often been represented as unconnected. The authors help us see the active making of global capitalism mostly overlooked in mainstream explanation. A great book."—Saskia Sassen, Robert S. Lynd Professor of Sociology at Columbia University and author of Territory, Authority, Rights

"Left-leaning intellectuals examine the exceptional role of the United States in the development of global capitalism ... .[a] densely detailed work."—Kirkus Reviews

"Sweeping, timely, and well-researched study of global capitalism ... compelling."—Publishers Weekly

"Deep, profound, and rich ... a truly epoch work that deserves careful, deliberate reading. Leo Panitch and Sam Gindin have so much to offer as we deliberate about the paths to follow for empowerment and meaningful change."—Mimi Rosenberg, host of Building Bridges on WBAI

"A real tonic both theoretically and, especially, politically. Panitch and Gindin have a deep understanding of historical materialism—their analysis is concrete and always anchored to advancing class struggle as an epistemic as well as a political project"—Adolph Reed, professor of political science, University of Pennsylvania

"[G]ives an excellent history of capitalism and compares how modern capitalism in America has set the stage for the acceptance of global capitalism ... one of the best books I've read on the topic."—David H., Book Bargains and Previews

"A meticulous history of how the American state, in conjunction with Wall Street, developed the institutional conditions that made global capitalism possible."—Jake Olzen, Infoshop News

"A masterful century-long history of US corporate activity and state economic strategy. Insofar as capitalist states are where class interests are codified, their spicy reading of dry officialdom's milquetoast narratives is absolutely vital to our knowledge about power. Most valuable are the ways these Canadians set out anti-capitalist principles and critiques of reformism, and defend socialist aspirations. In perhaps no other site in the English-speaking academic world are such committed, principled and generous leaders so warmly received by colleagues and students, and more importantly, by workers and communities in struggle. This means taking with utmost seriousness both their analysis and strategy, for even if they do not always jump the gap perfectly, no one I know has a better working model."—Patrick Bond, Red Pepper

"Readers should avail themselves of Professors Leo Panitch and his colleague Sam Gindin's excellent researching and insightful analysis, as well as their readable description and explanation of how the money part of the US empire works or doesn't. Serious activists will learn: these authors teach the how and why of the world's capitalist economic system."—Saul Landau, Counterpunch

"Organize[d] .. Focused ... a confrontation with financial institutions that must be re-created as instruments of economic coordination and social welfare."—Book News

"There is little doubt that The Making of Global Capitalism will soon establish itself as a benchmark text on the history of global capitalism during the 20th century ... Panitch and Gindin survey global capitalism from its head office so to speak, in order to follow a train of decisions and actions which they contend demonstrate precisely how global capitalism is—and indeed can only be—the logical result of the organization and operation of a new form of American empire."—Canadian Journal of Political Science
Verso, 9781844677429, 464pp.
Publication Date: October 9, 2012
About the Author
Sam Gindin is the former Research Director of the Canadian Autoworkers Union and Packer Visiting Chair in Social Justice at York University. Among his many publications, he is the author (with Greg Albo and Leo Panitch) of" In and Out of Crisis: The Global Financial Meltdown and Left Alternatives."

Leo Panitch is Canada Research Chair in Comparative Political Economy and Distinguished Research Professor of Political Science at York University. Editor of "The Socialist Register" for 25 years, his many books include "Working Class Politics in Crisis," "A Different Kind of State," "The End of Parliamentary Socialism," and "American Empire and The Political Economy of Global Finance."
or
Not Currently Available for Direct Purchase