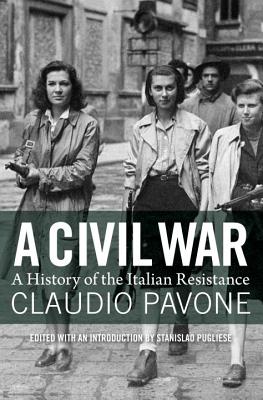 A Civil War
A History of the Italian Resistance
Hardcover

* Individual store prices may vary.
Other Editions of This Title:
Paperback (10/7/2014)
Description
"A Civil War" is a history of the wartime ItalianResistance, recounted by a historian whotook part in the struggle againstMussolini's Fascist Republic. Since its publicationin Italy, Claudio Pavone's masterwork has becomeindispensable to anyone seeking to understandthis period and its continuing importance for thenation's identity.
Pavone casts a sober eye on his protagonists ethical and ideological motivations. Heuncovers a multilayered conflict, in which classantagonisms, patriotism and political idealsall played a part. A clear understanding of thiscomplexity allows him to explain many details ofthe post-war transition, as well as the legacy of theResistance for modern Italy. In addition to beinga monumental work of scholarship, "A Civil War"is a folk history, capturing events, personalities
and attitudes that were on the verge of slippingentirely out of recollection to the detriment ofItaly's understanding of itself and its past.
Praise For A Civil War: A History of the Italian Resistance…
'The most beautiful book written to date on the Italian Resistance.' L'Unità

'There have not been many books on history and politics in the past few years that have sparked such a vast and heated debate as the one arising with the publication of A Civil War.'
Norberto Bobbio, author of The Future of Democracy

'Pavone's study of the struggle between the Resistance and the Fascist Republican regime, A Civil War, has provided the broad interpretive framework for much recent scholarship.' 
American Historical Review

'The most important essay on the Resistance.' La Stampa

'An essential book on the struggles of the Resistance.' Corriere della Sera

'An essential book – the best book on the Resistance to date – one that revitalizes the way we look at this phenomenon, engaging dispassionately with its defining controversial aspects: the civil war,
violence, ideology and the relationship between the Resistance and the Allies.'
Alberto De Bernardi, La Repubblica
Verso, 9781844677504, 744pp.
Publication Date: November 19, 2013
About the Author
Claudio Pavone was born in Rome in 1920 and, as a young man, took an active part in the Resistance movement. A renowned historian, he worked in the National Arcives and was Professor of Contemporary History at the University of Pisa. At present, he is the President of the Historic Institute of the Liberation Movement in Italy, the Vice President of the Italian Society of Contemporary History and the Director of the journal "Parolechiave."
or
Not Currently Available for Direct Purchase