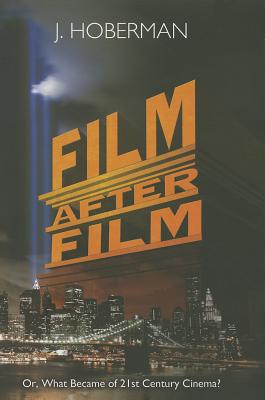 Film After Film (Hardcover)
(Or, What Became of 21st Century Cinema?)
Verso, 9781844677511, 304pp.
Publication Date: August 21, 2012
Other Editions of This Title:
Paperback (11/5/2013)
* Individual store prices may vary.
Description
One of the world's most erudite and entertaining film critics on the state of cinema in the post-digital—and post-9/11—age. This witty and allusive book, in the style of classic film theorists/critics like André Bazin and Siegfried Kracauer, includes considerations of global cinema's most important figures and films, from Lars von Trier and Zia Jiangke to WALL-E, Avatar and Inception.
About the Author
J. Hoberman was the senior film critic at the Village Voice from 1988 to 2012. He has taught at Harvard, NYU and Cooper Union, and is the author of ten books, including Bridge of Light, The Red Atlantis, The Dream Life and An Army of Phantoms.
Praise For Film After Film: (Or, What Became of 21st Century Cinema?)…
"Elegiac and anxious, critical and poetic, Film After Film surveys the current seismic shifts in movies and considers their effect on the cinematic imagination ... [Hoberman's] prose shines without qualification, and the selections remind us that his tenure at the Voice was, simply put, one of the greatest ever by an American film critic, influencing as it did an entire generation of writers."—Bookforum

"A brilliant, patchwork statement about the future of the cinema—spoiler alert: there is a future—in the face of reports of its imminent demise...Hoberman's book is a broadly accessible errand in the articulation of how we might imagine digital cinema to reflect twenty-first century culture."—Los Angeles Review of Books

"Spirited, thought-provoking and popping with fresh perspectives."—Wall Street Journal

"[Film After Film] does what Hoberman does best: use movies and movie culture as a prism for understanding political events—and vice versa."—Film Comment


 "J. Hoberman is probably the most acute political analyst of cinema among 
the medium's regular commentators. You won't find a closer reading of how films made in the first decade or so of the twenty-first century intermeshed with the issues of their day than this volume." Nick James, Sight and Sound

"Hoberman wittily traces the interlocking of political reality and moviemaking fantasies, to often disturbing effect." Financial Times 

"A dense, fascinating assemblage … by turns jocular and brilliantly reflective." Cineaste
 
or
Not Currently Available for Direct Purchase