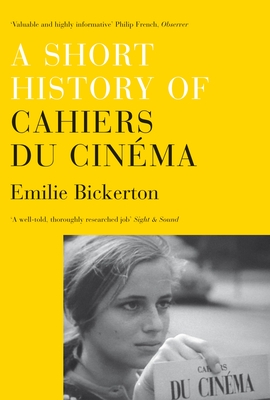 A Short History of Cahiers du Cinema (Paperback)
Verso, 9781844677603, 176pp.
Publication Date: October 1, 2011
Other Editions of This Title:
Hardcover (11/16/2009)
* Individual store prices may vary.
Description
Cahiers du Cinéma was the single most influential project in the history of film. Founded in 1951, it was responsible for establishing film as the 'seventh art,' equal to literature, painting or music, and it revolutionized film-making and writing. Its contributors would put their words into action: the likes of Godard, Truffaut, Rivette, Rohmer were to become some of the greatest directors of the age, their films part of the internationally celebrated nouvelle vague.

In this authoritative new history, Emilie Bickerton explores the evolution and impact of Cahiers du Cinéma, from its early years, to its late-sixties radicalization, its internationalization, and its response to the television age of the seventies and eighties. Showing how the story of Cahiers continues to resonate with critics, practitioners and the film-going public, A Short History of Cahiers du Cinéma is a testimony to the extraordinary legacy and archive these 'collected pages of a notebook' have provided for the world of cinema.
About the Author
Emilie Bickerton is a journalist and critic based in Paris. She is also on the editorial board of New Left Review.
Praise For A Short History of Cahiers du Cinema…
"It was 'the last modernist project', Emilie Bickerton says in this deft account of the real life and virtual death of Cahiers du cinema. The cinema itself lived and died in its pages, and it would be hard to imagine a better brief guide to the magazine's positions and polemics than this intelligent and sharply focused book."—Michael Wood

"Valuable and highly informative."—Philip French, The Observer

"The French New Wave directors all came from Cahiers du Cine?ma, a magazine that turned film criticism upside down in the 1950s. The salvos of its sagacity are finely charted by Bickerton, who also laments the recent slide into dumbed-down mediocrity."—Nigel Andrews, Financial Times

"What I love is Bickerton's certainty and courage ... Bickerton does a well-told, thoroughly researched job."—Nick James, Sight & Sound

"Compelling ... a reminder that contemporary film criticism could do with being more unapologetically clever—more ingenious, more argumentative, more French."—London Review of Books

"Has many of the ingredients of a good thriller ... Emilie Bickerton's alert prose manages to convey the drama and passionate confrontation of ideas, and she shows a keen eye for revealing detail."—Times Literary Supplement

"Emilie Bickerton has done a valuable and highly informative job."—Philip French, Observer

"Tantalisingly concise ... A reminder that contemporary film criticism could do with being more unapologetically clever—more ingenious, more argumentative, more French."—Jonathan Romney, London Review of Books
or
Not Currently Available for Direct Purchase