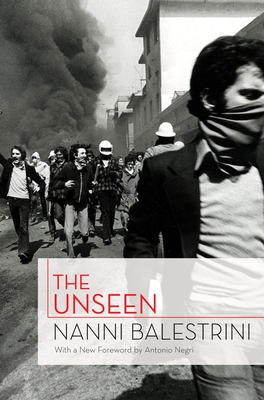 The Unseen
Paperback

* Individual store prices may vary.
Description
For a brief explosive period in the mid-1970s, the young and the unemployed of Italy's cities joined the workers in an unexpectedly militant movement known simply as Autonomy (Autonomia). Its "politics of refusal" united its opponents behind draconian measures more severe than any seen since the war.

Nanni Balestrini, the poet of youth rebellion, himself a victim of that repression, has invented a remarkable fictional form to express the hopes and conflicts of the movement. In spare but vivid prose, The Unseen follows Autonomy's trajectory through the eyes of a single working-class protagonist—from high-school rebellion, squatting and attempts to set up a free radio station to arrest and the brutalities of imprisonment. This is a powerful and gripping novel: a rare evocation of the intensity of commitment, the passion of politics.
Praise For The Unseen…
"Lucid, poetic, unforgettable."—La Stampa

"The Unseen isn't documentary writing, but it tells us far more than any documentary about a troubled phase in our history; how it was experienced, and most of all how it was lived in the imagination."—Corriere della Sera

"Not just a beautiful novel ... it is the story of part of a generation in our country, who dreamed a different future and believed in it, believed in the possibility of making it real."—Linus

"What [Balestrini] narrates is not a fairy tale, but a terrifying experience. Not just his own, but also that of a lost generation who thought possible another world beside the world, who dreamt of workers' power, of autonomy, who revolted against everything, school, family, clergy, political parties, "historical compromise," State, police, boredom ... The Unseen is, perhaps, the first true novel of the European Left."—Libération

"Balestrini offers a very lucid document, which is both the memory and the assessment of a disoriented generation. The Left now has its novel."—L'Événement du jeudi

"We should be grateful to Nanni Balestrini for having engaged his writing with this cruel sentimental education of a young man living in the seventies."—Rossana Rossanda, il manifesto

"The political passion of the rebel Balestrini is equalled by his literary vocation ... the finale is not unworthy of Bontempelli or Calvino."—Il Giornale

"A work of high literary quality. Among many novels and elegantly crafted pieces of fiction ... The Unseen has the courage to face an incandescent matter of reality, rich in implications that involve not only the literati but also a wider public."—L'Unità
Verso, 9781844677672, 256pp.
Publication Date: January 2, 2012
About the Author
Nanni Balestrini was born in Milan in 1935 and was a member of the influential avant-garde Gruppo 63, along with Umberto Eco and Eduardo Sanguineti. He is the author of numerous volumes of poetry, including Blackout and Ipocalisse, and novels such as Tristano, Vogliamo Tutto, and La Violenza Illustrata. During the notorious mass arrests of writers and activists associated with Autonomy, which began in 1979, Balestrini was charged with membership of an armed organization and with subversive association. He went underground to avoid arrest and fl ed to France. As in so many other cases, no evidence was provided and he was acquitted of all the charges. He currently lives in Rome, where he runs the monthly magazine of cultural intervention Alfabeta2 with Umberto Eco and others.

Antonio Negri has taught philosophy and political science at the Universities of Padua and Paris; he has also been a political prisoner in Italy and a political refugee in France. He is the author of over thirty books, including Political Descartes, Marx Beyond Marx, The Savage Anomaly, The Politics of Subversion, Insurgencies, Subversive Spinoza, and Time for Revolution, and, in collaboration with Michael Hardt, Labor of Dionysus, Empire and Multitude. He currently lives in Paris and Venice.
or
Not Currently Available for Direct Purchase