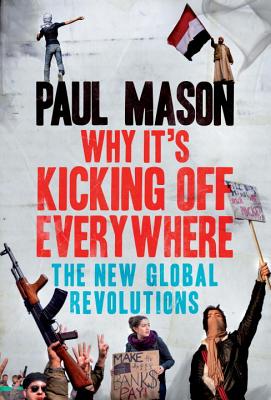 Why It's Kicking Off Everywhere (Paperback)
The New Global Revolutions
Verso, 9781844678518, 244pp.
Publication Date: January 9, 2012
* Individual store prices may vary.
Description
The world is facing a wave of uprisings, protests and revolutions: Arab dictators swept away, public spaces occupied, slum-dwellers in revolt, cyberspace buzzing with utopian dreams. Events we were told were consigned to history—democratic revolt and social revolution—are being lived by millions of people.

In this compelling new book, Paul Mason explores the causes and consequences of this great unrest. From Cairo to Athens, Wall Street and Westminster to Manila, Mason goes in search of the changes in society, technology and human behaviour that have propelled a generation onto the streets in search of social justice. In a narrative that blends historical insight with first-person reportage, Mason shines a light on these new forms of activism, from the vast, agile networks of cyberprotest to the culture wars and tent camps of the #occupy movement. The events, says Mason, reflect the expanding power of the individual and call for new political alternatives to elite rule and global poverty.
About the Author
Paul Mason is the economics editor of the BBC's flagship current affairsprogram "Newsnight" and appears frequently on "BBC World News America."He has covered globalization and social justice stories from locations aroundthe world, including Latin America, Africa and China. His book "Live Working, Die Fighting" was longlisted for the Guardian First Book Award.
Praise For Why It's Kicking Off Everywhere: The New Global Revolutions…
"The writing style of this reportage is compact, urgent, present-tense, declarative, and addictive."—Andy Beckett, Guardian

"He's lively, funny and engaging, trading in the energy derived from the thrill and significance of what he's witnessing."—Phil Harrison, Time Out

"Superb overview of the global protest movements of 2011."—New Internationalist

"This book not only reads as an in-depth consideration of global politics today, but offers a personal memoir from a man who has had a ringside seat. We are blessed that the BBC, for all the criticisms, still employs journalists whose logic and unfailing inquisitiveness brings us such analysis."—Dan Carrier, Camden New Journal

"You will learn something new and challenging on every page of this book."—Kenny Farquharson, Scotland on Sunday

"The mix of wide-ranging reportage and historical analysis is lively and insightful."—Claire Allfree, Metro

"A cogent, accessible analysis of the ongoing forces of global upheaval....[a] lively collection of essays and reportage."—Kirkus Reviews

"Testament to his instincts as a veteran journalist, Mason managed to be everywhere right as things were kicking off—traversing the globe from the Middle East to Europe to America to Asia. [T]he book combines a feel for the breathlessness of events as they unfold with a historian's eye for patterns and precedents ... Mason's prose beautifully captures the almost surreal mood that often accompanies mass shifts in consciousness."—Leela Yellesetty, Socialist Worker

"These reports are good journalism. One feels as if they are present at the rallies, occupations and riots that Mason describes. The anecdotal tales he provides should remind anyone who participated in any kind of popular resistance in the past decades of the energy and hope one finds and feels at such events. These are the stuff that makes one join such movements. Worthwhile and provocative."—Ron Jacobs, Counterpunch
or
Not Currently Available for Direct Purchase