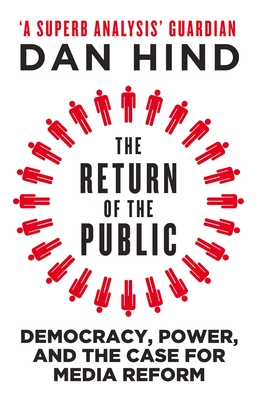 The Return of the Public (Paperback)
Verso, 9781844678631, 246pp.
Publication Date: May 22, 2012
* Individual store prices may vary.
or
Not Currently Available for Direct Purchase
Description
Under the incurious gaze of the major media, the political establishment and the financial sector have become increasingly deceitful and dangerous in recent years. At the same time, journalists at Rupert Murdoch's News International and elsewhere have been breaking the law on an industrial scale. Now we are expected to stay quiet while those who presided over the shambles judge their own conduct.

In The Return of the Public, Dan Hind argues for reform of the media as a necessary prelude to wider social transformation. A former commissioning editor, Hind urges us to focus on the powers of the media to instigate investigations and to publicize the results, powers that editors and owners are desperate to keep from general deliberation.

Hind describes a programme of reform that is modest, simple and informed by years of experience. It is a programme that much of the media cannot bring themselves even to acknowledge, precisely because it threatens their private power. It is time the public had their say.
About the Author
Dan Hind was a publisher for ten years. in 2009 he left the industry to develop a program of media reform centered on public commissioning. His journalism has appeared in the "Guardian," the "New Scientist," Lobster and the "Times Literary Supplement." His books include "The Threat to Reason" and "The Return of the Public." He lives in London.
Praise For The Return of the Public…
"A superb analysis of the way in which citizens have lost power in a political and economic system built around the free market."—Roy Greenslade, Guardian

"A book marked by a somber and scathing rhetoric that recalls the Frankfurt School critique of thinkers such as Adorno and Marcuse."—Boyd Tonkin, Independent

"In his ingenious and quietly passionate argument, Dan Hind shows how we could take democracy into the media so that it becomes something regular people can shape—a part of how we rule ourselves instead of stealing democracy from us."—Anthony Barnett, founder, openDemocracy

"Drawing on history and democratic theory, this book offers a powerful indictment of public exclusion. It is also original, breaking with standard corporatist approaches to reform. Well written, eloquent and very well worth reading."—James Curran, co-author of Power Without Responsibility

"A persuasive and vital analysis."—David Cromwell, co-editor of Media Lens, Times Higher Education Supplement

"Winner, 2011 Best Book of Ideas"—Bristol Festival of Ideas
Advertisement