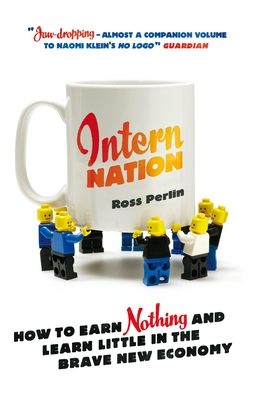 Intern Nation (Paperback)
How to Earn Nothing and Learn Little in the Brave New Economy
Verso, 9781844678839, 286pp.
Publication Date: April 4, 2012
Other Editions of This Title:
Hardcover (5/9/2011)
* Individual store prices may vary.
Description
Millions of young people—and increasingly some not-so-young people—now work as interns. They famously shuttle coffee in a thousand magazine offices, legislative backrooms, and Hollywood studios, but they also deliver aid in Afghanistan, map the human genome, and pick up garbage. Intern Nation is the first exposé of the exploitative world of internships. In this witty, astonishing, and serious investigative work, Ross Perlin profiles fellow interns, talks to academics and professionals about what unleashed this phenomenon, and explains why the intern boom is perverting workplace practices around the world.

The hardcover publication of this book precipitated a torrent of media coverage in the US and UK, and Perlin has added an entirely new afterword describing the growing focus on this woefully underreported story. Insightful and humorous, Intern Nation will transform the way we think about the culture of work.
About the Author
Ross Perlin is a graduate of Stanford, SOAS, and Cambridge, and has written for, the New York Times, Time magazine, Lapham's Quarterly, Guardian, Daily Mail, and Open Democracy. He is researching disappearing languages in China.
Praise For Intern Nation: How to Earn Nothing and Learn Little in the Brave New Economy…
"'Interns built the pyramids,' the great magazine The Baffler once declared. And that was just the beginning of their labors, as Ross Perlin demonstrates in this fascinating and overdue exposé of the wage labor without wages, the resumé-building servitude, at the heart of contemporary capitalism."—Benjamin Kunkel, a founding editor of n+1 and author of the novel Indecision

"A book that offers landmark coverage of its topic."—Andrew Ross, London Review of Books

"Perlin contends that most internships are illegal, according to the Fair Labor and Standards Act, stripping people who are employees in all but name of workers' rights."—New Yorker

"A portrait of how white-collar work is changing ... thought-provoking and at times jaw-dropping—almost a companion volume to Naomi Klein's celebrated 2000 exposé of modern sweatshops, No Logo."—Andy Beckett, Guardian

"A compelling investigation of a trend that threatens to destroy 'what's left of the ordered world of training, hard work and fair compensation' ... Full of restrained force and wit, this is a valuable book on a subject that demands attention."—Anna Winter, Observer

"[An] eye-opening, welcome exposé."—Sunday Times

"This vigorous and persuasive book ... argues that the fundamental issue is the growing contingency of the global workforce."—Roger D. Hodge, Bookforum

"Organizations in America save $2 billion a year by not paying interns a minimum wage, writes Ross Perlin in Intern Nation."—Economist

"Well-researched and timely."—Daily Telegraph

"[E]ye-opening ... The book tackles a sprawling topic with earnestness and flair."—Katy Waldman, Washington Post

"Perlin ... has an eye for polemical effectiveness."—Times Literary Supplement

"A timely book addressing the exploitation of the nation's younger workforce under the guise of the 'internship model.'"—Most Anticipated Books of Spring 2011, Huffington Post

"A serious and extremely well-written text that offers sophisticated historical material about the origins of internship and its impact on the individuals concerned, the firms that use it and the world of work more generally."—Cary L. Cooper, Times Higher Education

"Perlin's attempt to understand internships as a symptom of wider trends in the economy ... makes the book such a fascinating read."—Spectator

"When you are competing for jobs during a recession, the only thing worse than being exploited can be not being exploited. Yes, many internships are really crummy, but then some of them do ultimately lead to something ... which is why, when people have no access to internships at all, it makes them invisible."—Ross Perlin speaking to Kaya Burgess, Times of London

"Perlin dissects the employment practices of some of the world's biggest corporations, inc¬luding Disney, which he accuses of replacing "well-trained, decently compensated full-timers" with an army of low-paid interns. But for employers that approach recruitment strategically, internships are typically a cost—albeit one they hope will pay off in better, happier recruits."—Financial Times

"[Perlin's] exposé on the internship model initiates a critical conversation on internships ... his thoughtful book is necessary reading for the millions of young people trying to break into the working world through internships."—Publishers Weekly

"That fact that it took this long for someone to write this book seems as blatantly wrong as the practice itself. Perlin provides a welcome, long-overdue and much-needed argument."—Kirkus Reviews

"Perlin's writing is engaging and the questions he raises are valid ones in an increasingly competitive job market."—Library Journal

"[A] blistering, highly entertaining attack on today's internship culture."—Boston Globe

"Cloaked in the innocent idea of the intern, aggressive employers are using young people trying to get a foothold to weaken the leverage of existing workers, especially professionals. Ross Perlin gives us an account of another subterranean strategy to undermine working people in the US."—Frances Fox Piven, Distinguished Professor of Political Science and Sociology at the Graduate Center, CUNY

"Alas, the valuable internship institution is being widely and flagrantly abused, as Ross Perlin demonstrates in this eye-opening book. A huge chunk of the American workplace has been distorted in an unhealthy way, and Perlin provides not only the diagnosis but the beginnings of a prescription."—James Ledbetter, editor in charge of Reuters.com, and author of Unwarranted Influence

"The world has been waiting for this book. It's lucky that someone as thoughtful and politically aware as Ross Perlin was there to write it."—Anya Kamenetz, author of Generation Debt and DIY U

"Few books have been written about the effect of internships, so this short book will be eye-opening for many. Students and parents should add it their reading lists."—Repps Hudson, St. Louis Post-Dispatch

"For critics such as Ross Perlin, author of Intern Nation, unpaid labor harms everyone in the labor market."—Alexandra Alper, Reuters

"Intern Nation provides a wide-angle overview of an international system of labor subsidization masked as career opportunity—indeed, as a de rigueur component of baccalaureate and even postgraduate degree work, without which a young person cannot hope to secure a gratifying and adequately remunerative professional career in the twenty-first century."—Cecelia Tichi, Academe Magazine

"[A] scathing look at the internship culture ..."—Washingtonian

"[Intern Nation] tracks how the explosion of internships in creative fields changed the entry level of many industries."—New York Times Critic's Notebook