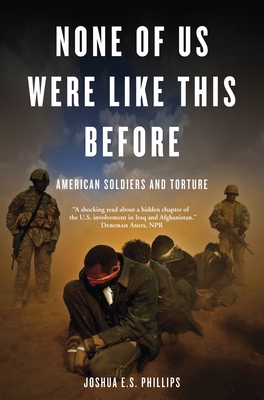 None of Us Were Like This Before
American Soldiers and Torture
Paperback

* Individual store prices may vary.
Other Editions of This Title:
Hardcover (6/14/2010)
Description
None of Us Were Like This Before recounts the dark journey of a tank battalion as its focus switched from conventional military duties to guerilla warfare and prisoner detention. Author Joshua E. S. Phillips tells a story of ordinary soldiers, ill trained for the responsibilities foisted upon them, who descended into a cycle of degradation that led to the abuse of detainees. The book illustrates that the damaging legacy of torture is borne not only by the detainees, but also by American soldiers and the country to which they have returned.
Praise For None of Us Were Like This Before: American Soldiers and Torture…
"The stories contained in this book reveal how brave American service members tried to stop torture and abuse—often at the expense of their careers and their lives. Their sacrifice and the losses that they incurred are absorbed by all of us as a nation."—Daniel Ellsberg

"This is an important book showing the damage abuse does to the torturers as well as to their victims ... Phillips's message is that we most need the rules banning torture when we most want to break them."—Oliver Bullough, Independent

"A serious, comprehensive effort to examine how torture and abuse, once embarked upon, damage the torturer and abuser as well as the tortured and abused."—Lawrence Wilkerson, former Chief of Staff to Secretary of State Colin Powell

"A deeply personal story of a generation of American soldiers plunged into conflict after September 11. Joshua Phillips tells these brave Americans' stories with compassion and vivid detail."—Senator John F. Kerry

"Joshua Phillips brings much needed close reporting to the question of American torture. He reveals much about the interaction of 'lower down' and 'higher up' behavior, always including permission or encouragement from above. The book also suggests the psychological toll on those who torture, and is an important contribution to American reckoning with a dark moment in our history."—Robert Jay Lifton, Witness to an Extreme Century: A Memoir

"Joshua Phillips's incredible work in documenting the experience of soldiers who detained and interrogated detainees reflects the huge dilemma and consequences of their actions. His book is about accountability where senior leaders in the military and in the highest level of government failed to account for their actions, failed to protect soldiers who expected clear instructions, and failed the nation in preventing torture and abuse of the enemy. This led to Abu Ghraib—an epic tragedy in American history."—Major General Antonio Taguba, author of the Taguba Report

"A shocking read about a hidden chapter of the US involvement in Iraq and Afghanistan."—Deborah Amos, NPR

"Basing his work on extensive interviews, [Phillips] details how ordinary American troops participated in the torture of enemy soldiers in Iraq and Afghanistan."—San Francisco Chronicle

"A masterwork of narrative nonfiction."—Chris Lombardi, Guernica

"Phillips shows that the recourse to blaming a 'few bad apples' should be recognised as a disgraceful, face-saving fiction."—David Simpson, London Review of Books

"A tour de force of investigative journalism."—Eamonn McCann, Belfast Telegraph

"This shattering book is a journey into the heart of American darkness. What Joshua Phillips makes shockingly clear is that the misbehavior of some of our best soldiers in Iraq and Afghanistan came about because of a failure of military leadership and because political leaders lacked the courage to admit the word 'torture.'"—Richard Rodriguez, author of Brown: The Last Discovery of America

"Those who authorized torture and defend it don't want to talk about this. They took honorable, patriotic young soldiers and convinced them to sacrifice the very principles that they had signed up to defend. That paradox is what Phillips investigates and brings to light. And he does it with the utmost respect for the soldiers."—Huffington Post

"Phillips' book remains the first and best heartbreaking tale not only of the abuses taking place within our military prisons, but also the negative, long term and in many cases fatal psychological affects it is having on both interrogating soldiers and interrogated enemy prisoners of war ... [An] outstanding book [and] a necessary read for all."—Kristina Brown and Paul Sullivan, Veterans for Common Sense

"None of Us Were Like This Before is a model of conscientious reporting on a volatile subject—the torture of Iraqi prisoners by American soldiers. His ethical and compassionate approach is an act of citizenship."—Barry Lopez, author of Arctic Dreams and Crossing Open Ground

"There are many things in this book that are fascinating and generally unknown. One is that these soldiers were afraid to report what they had seen and done ... but without reporting it they couldn't receive any medical help for their trauma."—Darius Rejali, author of Torture and Democracy

"The causes and consequences of systematic abuse and torture are all explored by Joshua Phillips through a careful but searing narrative."—Dominic Alexander, Counterfire

"A fascinating yet distressing account of how the use of torture and abusive techniques on prisoners in Iraq and Afghanistan affected the lives of American soldiers who found themselves caught up in it. Far from neglecting the suffering of the victims, Phillips, through meticulous research, also brings home the full horror of the war crimes inflicted upon the citizens of the occupied nations."—Craig Hawes, Gulf News

"Joshua Phillips' book shows that America's leaders were wrong."—National

"None of Us Were Like This Before ... is an important [book]."—Foreign Policy
Verso, 9781844678846, 256pp.
Publication Date: July 4, 2012
About the Author
Joshua E. S. Phillips is based in New York City and has reported from Asia and the Middle East. His work has appeared in the Washington Post, Newsweek, Salon, the San Francisco Chronicle, and the Atlanta Journal–Constitution, among other publications. His radio features have been broadcast on NPR and the BBC. In 2009, Phillips received the Alfred I. duPont-Columbia University Award and the Newspaper Guild's Heywood Broun Award of Substantial Distinction for his American Radio Works documentary What Killed Sergeant Gray.
or
Not Currently Available for Direct Purchase