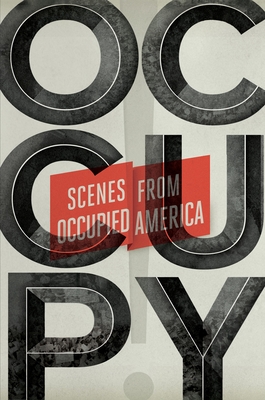 Occupy!
Scenes from Occupied America
Paperback

* Individual store prices may vary.
Description
In the fall of 2011, a small protest camp in downtown Manhattan exploded into a global uprising, sparked in part by the violent overreactions of the police. An unofficial record of this movement, Occupy! combines adrenalin-fueled first-hand accounts of the early days and weeks of Occupy Wall Street with contentious debates and thoughtful reflections, featuring the editors and writers of the celebrated n+1, as well as some of the world's leading radical thinkers, such as Slavoj Žižek, Angela Davis, and Rebecca Solnit.

The book conveys the intense excitement of those present at the birth of a counterculture, while providing the movement with a serious platform for debating goals, demands, and tactics. Articles address the history of the "horizontalist" structure at OWS; how to keep a live-in going when there is a giant mountain of laundry building up; how very rich the very rich have become; the messages and meaning of the "We are the 99%" tumblr website; occupations in Oakland, Boston, Atlanta, and elsewhere; what happens next; and much more.
Praise For Occupy!: Scenes from Occupied America…
"Occupy! abounds with insights on how the occupiers have dealt with internal challenges to their experiment in direct democracy."—Andrew Ross, Guardian

"Both analytical and full of vivid experience ... These blog-style pieces are interspersed with more substantive writings, which are the true strength of the collection ... but most interesting are those by lesser-known writers who bring us vivid historical analyses of various aspects of the occupations."—Michael Sayeau, Observer

"Unlike most quickie publications, the book is gorgeous, a testament to beautiful book design ... the essays are thoughtful pieces of first-person reportage. [A] clear-eyed and sober examination of the dream world that we created this fall, along with a few brief, tentative explorations of what it will become in the future. It's also an excellent proof-of-concept for speedily published book-length journalism that does work blogs and newspapers simply can't do. This is not some dashed-off smear of a money-making scheme; I recommend it heartily."—Paul Constant, The Stranger

"A heart warming anthology of the voices involved in this surprising grass roots movement."—Robert Birnbaum, Our Man in Boston

"Occupy!, an anthology from the occasional Occupy Gazette published by n+1, includes ... a lovely piece on the difficulties of organising an occupation's laundry, which works as a handy metaphor for some of the movement's larger challenges."—The Economist
Verso, 9781844679409, 224pp.
Publication Date: December 17, 2011
About the Author
Carla Blumenkranz is the managing editor of <a href="http://nplusonemag.com/">n+1</a>.

Keith Gessen is a founding editor of <a href="http://nplusonemag.com/">n+1</a>.

Mark Greif is a founding editor of <a href="http://nplusonemag.com/">n+1</a>.

Sarah Leonard is an editor at Dissent magazine and The New Inquiry.

Sarah Resnick is a senior editor at Triple Canopy.

Nikil Saval is an associate editor of <a href="http://nplusonemag.com/">n+1</a>.

Eli Schmitt is a writer living in New York.

Astra Taylor is the director of the documentary films Zizek! and Examined Life.

Judith Butler is Maxine Elliot Professor in the Departments of Rhetoric and Comparative Literature at the University of California, Berkeley. She is the author of Frames of War, Precarious Life, The Psychic Life of Power, Excitable Speech, Bodies that Matter, Gender Trouble, and with Slavoj Žižek and Ernesto Laclau, Contingency, Hegemony, Universality.

Angela Davis is a teacher, writer, scholar, and activist/organizer.

Jodi Dean teaches political and media theory in Geneva, New York. She has written or edited eleven books, including The Communist Horizon and Democracy and Other Neoliberal Fantasies.

Celeste Dupuy-Spencer is an artist who lives and works in New York City.

Zoltán Glu?ck is pursuing a doctorate in anthropology at the CUNY Graduate Center.

Elizabeth Gumport is an associate editor of n+1.

Doug Henwood is editor of the Left Business Observer.

Christopher Herring is pursuing a doctorate in sociology at UC Berkeley.

Svetlana Kitto is a writer, teacher, and oral historian living in New York City.

L.A. Kauffman is an activist and organizer.

Kung Li is the former executive director of the Southern Center for Human Rights in Atlanta.

Audrea Lim is an associate editor at Verso Books.

Manissa Maharawal is a graduate student at the CUNY Graduate Center, a writer and an activist.

Thomas Paine was a writer and revolutionary.

Marco Roth is a founding editor of n+1.

Marina Sitrin is a writer, activist, lawyer, and dreamer, as well as a postdoctoral fellow at the CUNY Graduate Center.

Rebecca Solnit is author of, among other books, Wanderlust, A Book of Migrations, A Field Guide to Getting Lost, the NBCC award-winning River of Shadows and A Paradise Built In Hell. A contributing editor to Harper's, she writes regularly for the London Review of Books and the Los Angeles Times. She lives in San Francisco.

Stephen Squibb is pursuing a doctorate in English at Harvard University.

Sunaura Taylor is an artist, writer, and activist living in Oakland, CA.

Alex Vitale is an associate professor of sociology at Brooklyn College.

Slavoj Žižek is a Slovenian philosopher and cultural critic. He is a professor at the European Graduate School, International Director of the Birkbeck Institute for the Humanities, Birkbeck College, University of London, and a senior researcher at the Institute of Sociology, University of Ljubljana, Slovenia. His books include Living in the End Times, First as Tragedy, Then as Farce, In Defense of Lost Causes, four volumes of the Essential Žižek, and many more.
or
Not Currently Available for Direct Purchase