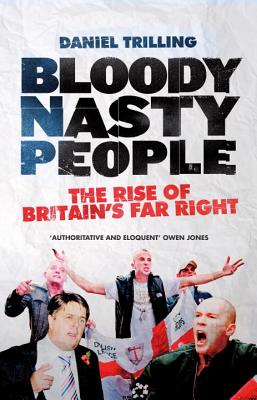 Bloody Nasty People
The Rise of Britain's Far Right
Hardcover

* Individual store prices may vary.
Other Editions of This Title:
Paperback (5/7/2013)
Description
Drawing on archival research and extensive interviews with key figures, such as BNP leader Nick Griffin, Daniel Trilling shows how previously marginal characters from a tiny neo-Nazi subculture have managed to exploit the tensions arising from the War on Terror and from steepening economic inequality.
Praise For Bloody Nasty People: The Rise of Britain's Far Right…
"An instructive account of white extremism in Britain."—Yasmin Alibhai-Brown, Independent

"Daniel Trilling is a serious reporter who is not afraid to get close to a difficult subject and ask awkward questions. The result is journalism of the best kind—it is vivid and readable, and it also makes you think."—Brian Cathcart, author of The Case of Stephen Lawrence

"Racism and the rise of the far-right in Britain are often discussed but rarely understood. Daniel Trilling is an exception, writing about these controversial issues authoritatively and eloquently. With the threat posed by prejudice and bigotry ever greater at a time of economic crisis, Trilling's voice must be heard."—Owen Jones, author of Chavs: The Demonization of the Working Class

"'Bloody Nasty People' is pure pavement-pounding journalism.'"—Time Out

"Trilling traces the rise of the radical right in the United Kingdom and condemns establishment figures for not taking it more seriously."—Foreign Affairs

"Chronicling the rise of anti-immigrant, ultra-right-wing parties in the United Kingdom and the changing fortunes of the British National Party (BNP), Trilling's book offers a compelling analysis of the racist fringe... Trilling insightfully rebuts the most common claims made by far-right activists, offering neat refutations of such myths as the idea that white people are the victims of institutional racism in the U.K."—Publishers Weekly

"Trilling does not let Labour off the hook ... [he] takes on those who mask concessions to racism as concern for the 'white working class.'"—Tash Shifrin, The Socialist Review

"The BNP is in electoral decline thanks in the main to the activities of anti-fascist campaigners outside the main political party structures but the conditions on which it thrived are still there—poverty, poor housing, unemployment and racism in the Establishment media. For those reasons alone this is a very timely book."—The Morning Star

"A passionate plea for us all to be vigilant."—Sunday Herald

"Trilling is an experienced journalist who knows his material, gets close to his sources, and writes in a readable and convincing style."—Book News
Verso, 9781844679591, 234pp.
Publication Date: October 9, 2012
About the Author
Daniel Trilling is an Assistant Editor at the "New Statesman," where he has reported on Britain's far right since 2009. His work has also appeared in the "Guardian," "Sight and Sound" and "Frieze." He lives in London.
or
Not Currently Available for Direct Purchase