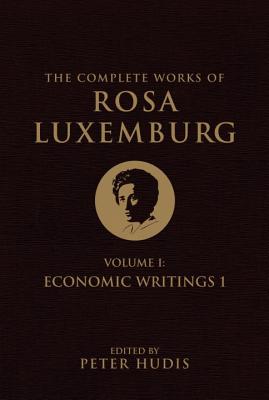 The Complete Works of Rosa Luxemburg (Hardcover)
Volume I, Economic Writings I
Verso, 9781844679744, 596pp.
Publication Date: November 12, 2013
Other Editions of This Title:
Paperback (11/4/2014)
Hardcover (11/26/2019)
Paperback (8/23/2016)
Hardcover (5/19/2015)
* Individual store prices may vary.
Description
This first volume in Rosa Luxemburg's "Complete Works, " entitled"Economic Writings 1," contains some of Luxemburg's most importantstatements on the globalization of capital, wage labor, imperialism, and pre-capitalist economic formations.
In addition to a new translation of her doctoral dissertation, The Industrial Development of Poland, Volume I includes the firstcomplete English-language publication of her Introduction toPolitical Economy, which explores (among other issues) the impactof capitalist commodity production and industrialization on noncapitalistsocial strata in the developing world. Also appearing hereare ten recently discovered manuscripts, none of which has everbefore been published in English.
About the Author
Rosa Luxemburg (1871 1919) was a Polish-born Jewish revolutionary and one of the greatest theoretical minds of the European socialist movement. An activist in Germany and Poland, the author of numerous classic works, she participated in the founding of the German Communist Party and the Spartacist insurrection in Berlin in 1919. She was assassinated in January of that year and has become a hero of socialist, communist and feminist movements around the world.

Peter Hudis is a Lecturer at Oakton Community College. He coedited "The Letters of Rosa luxemburg"; "The Rosa Luxemburg Reader"; and Raya Dunayevskaya s "Selected Writings on the Dialectic in Hegel and Marx.""
Praise For The Complete Works of Rosa Luxemburg: Volume I, Economic Writings I…
"One cannot read the writings of Rosa Luxemburg, even at this distance, without an acute yet mournful awareness of what Perry Anderson once termed 'the history of possibility.'"—Christopher Hitchens, Atlantic

"Transports us directly into the private world of a woman who has never lost her inspirational power as an original thinker and courageous activist ... [and] reveals that the woman behind the mythic figure was also a compassionate, teasing, witty human being."—Sheila Rowbotham, Guardian

"One of the most emotionally intelligent socialists in modern history, a radical of luminous dimension whose intellect is informed by sensibility, and whose largeness of spirit places her
in the company of the truly impressive." —Vivian Gornick, Nation