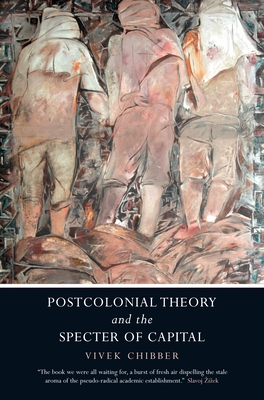 Postcolonial Theory and the Specter of Capital
Paperback

* Individual store prices may vary.
Description
Postcolonial theory has become enormously influential as a framework for understanding the Global South. It is also a school of thought popular because of its rejection of the supposedly universalizing categories of the Enlightenment. In this devastating critique, mounted on behalf of the radical Enlightenment tradition, Vivek Chibber offers the most comprehensive response yet to postcolonial theory. Focusing on the hugely popular Subaltern Studies project, Chibber shows that its foundational arguments are based on a series of analytical and historical misapprehensions. He demonstrates that it is possible to affirm a universalizing theory without succumbing to Eurocentrism or reductionism.

Postcolonial Theory and the Specter of Capital promises to be a historical milestone in contemporary social theory.
Praise For Postcolonial Theory and the Specter of Capital…
"With its focus on cultural identities and mixtures, postcolonial theory ignored the larger context of capitalist relations and thus limited its scope to Western academia where it excelled in the game of growing and profiting from the liberal guilt feeling. Chibber's book simply sets the record straight, bringing postcolonialism down from cultural heights to where it belongs, into the very heart of global capitalist processes. The book we were all waiting for, a burst of fresh air dispelling the stale aroma of pseudo-radical academic establishment."—Slavoj Žižek

"In this scrupulous and perceptive analysis, Vivek Chibber successfully shows that the 'universalizing categories of Enlightenment thought' emerge unscathed from the criticisms of postcolonial theorists. He shows further that—perhaps ironically—Subaltern Studies greatly underestimates the role of subaltern agency in bringing about the transformations that they attribute to the European bourgeoisie. Chibber's analysis also provides a very valuable account of the actual historical sociology of modern European development, of Indian peasant mobilization and activism, and much else. It is a very significant contribution."—Noam Chomsky

"In this outstanding work—a model of clarity in its architecture and argumentation—key theorists of the 'Subaltern' and of postcoloniality have met their most formidable interlocutor and critic yet. Chibber's critique of postcolonial theory and the historical sociological studies associated with it is, at the same time, a vigorous and welcome defense of the enduring value of certain Enlightenment universals as an analytical framework to both understand and radically change the world we live in."—Achin Vanaik

"Vivek Chibber has written a stunning critique of postcolonial theory as represented by the Subaltern Studies school. While eschewing all polemics, he shows that their project is undermined by their paradoxical acceptance of an essentially liberal-Whig interpretation of the bourgeois revolutions and capitalist development in the West, which provides the foundation for their fundamental assertion of the difference of the East. Through a series of painstaking empirical and conceptual studies Chibber proceeds to overturn the central pillars of the Subalternists' framework, while sustaining the credibility of Enlightenment theories. It is a bravura performance that cannot help but shake up our intellectual and political landscape."—Robert Brenner

"Postcolonial Theory and the Specter of Capital is a must-read book for students of comparative politics and social theory. Vivek Chibber presents a forceful challenge to the Subaltern Studies school and to postcolonial theory more broadly. Arguing with great clarity, Chibber raises fundamental objections to their ideas about capitalism, power, and agency, and presents an alternative account of these ideas. Most fundamentally, he rejects the fundamental division between 'East and West' associated with postcolonial theory and defends the 'universalizing categories of Enlightenment thought.' This is a major contribution that is bound to reshape debate on these important issues."—Joshua Cohen

"In this book, Vivek Chibber has carried out a thoroughgoing dissection of Subaltern Studies. Like a highly skilled anatomist, he lays bare the skeleton, the nervous system, the arteries and veins of this school ... In the process the reader is also exposed to the nitty-gritty of a materialist historiography."—Amiya Kumar Bagchi
Verso, 9781844679768, 256pp.
Publication Date: March 12, 2013
About the Author
Vivek Chibber is Associate Professor of Sociology at New York University. He has contributed to, among others, the Socialist Register, American Journal of Sociology, Boston Review and New Left Review. His book Locked in Place: State-Building and Late Industrialization in India won the 2005 Barrington Moore Book Award and was one of Choice's Outstanding Academic Titles of 2004.