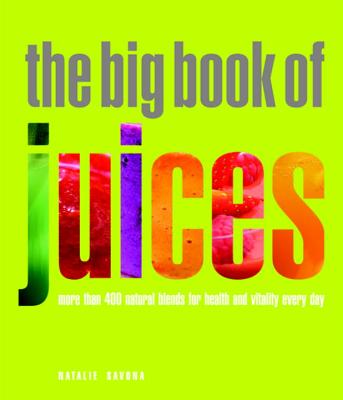 The Big Book of Juices: More Than 400 Natural Blends for Health and Vitality Every Day (Paperback)
More Than 400 Natural Blends for Health and Vitality Every Day
Duncan Baird, 9781844839735, 728pp.
Publication Date: October 1, 2010
Description
With some 405 recipes for fruit and vegetable juices, smoothies, and quenchers, this newly updated and expanded edition of Natalie Savona's essential kitchen guide to juicing now offers health-conscious readers even more. A smart indexing system sorts the juices by key ingredients, nutrients, and health benefits. Plus, a simple, five-star system rates the effectiveness of the drinks in boosting energy and detoxifying the body, as well as potential benefits for the immune system, digestion, and beautiful, radiant, clear skin.
About the Author
"Natalie Savona's inspiring, practical approach to balanced eating and simple, tasty recipes have made her one of Britain's leading nutritionists. She is the author of six books, including The Big Book of Juices & Smoothies, Wonderfoods and Wonderfoods for Kids. Natalie trained at The Institute for Optimum Nutrition, having previously graduated from Cambridge and City Universities. She regularly features as an expert in the national press, on radio and television and has presented two television series for the BBC. For more information visitwww.nataliesavona.com"
Advertisement