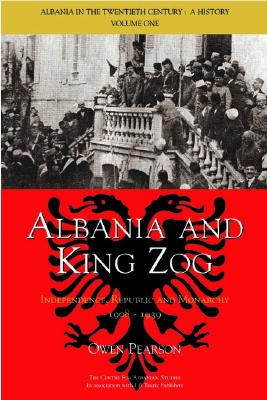 Albania and King Zog
Independence, Republic and Monarchy, 1908-1939 (Albania in the Twentieth Century #1)
Hardcover

* Individual store prices may vary.
Description
Albania in the Twentieth Century: A History represents an unparalleled achievement in scholarship on Albania. Owen Pearson presents a complete account of the twentieth century in Albania, from its breakaway from the Ottoman Empire in 1908 to the Kosova War in 1999. In fascinating detail, Pearson chronicles the monarchy of King Zog and the wartime period where Albania became a battleground for the Greek, Italian and German armies. He describes Enver Hoxha's seizure of power, the country's fraught relationship with the post-Stalin Soviet Union and Maoist China's fraternal embrace of Albania, all leading to near-total isolationism and inevitable economic collapse. Pearson concludes with the genocide of Kosovar Albanians at the hands of the Serbian regime of Milosevic that characterised the last decade of twentieth century Albania. Comprising original research, and excerpts from rare Albanian sources, this is a compendium of primary source material that provides a year-by-year and sometimes day-by-day account of Albania's modern history. It is an essential reference for all those interested in Albanian Balkan and Eastern European history.
I.B.Tauris in association with the Center for Albanian Studies.
Praise For Albania and King Zog: Independence, Republic and Monarchy, 1908-1939 (Albania in the Twentieth Century #1)…
"This is an extraordinary achievement. Owen Pearson has produced a chronicle of modern Albanian history which will be an indispensable reference work for anyone working in this field. This book is a veritable treasury."--Noel Malcolm, All Soul's College, Oxford
I. B. Tauris & Company, 9781845110130, 608pp.
Publication Date: April 25, 2005
About the Author
Owen Pearson is a private scholar with a longstanding interest in Albania.