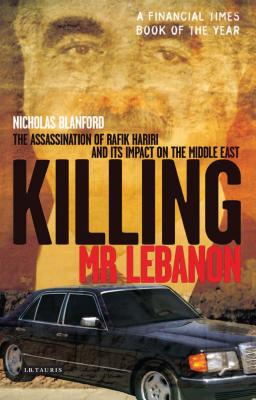 Killing Mr. Lebanon: The Assassination of Rafik Hariri and Its Impact on the Middle East (Hardcover)
The Assassination of Rafik Hariri and Its Impact on the Middle East
I. B. Tauris & Company, 9781845112028, 236pp.
Publication Date: October 1, 2006
* Individual store prices may vary.
or
Not Currently Available for Direct Purchase
Description
Lebanese Prime Minister Rafik Hariri, known as *Mr. Lebanon, * was killed by a massive explosion as he drove along the Beirut seafront on Valentine's Day in 2005. A business entrepreneur, who rose from nothing to become one of the most powerful men in Lebanese politics, Hariri's assassination has incited outrage and suspicion. Nicholas Blanford investigates Hariri's past, inextricably linked with that of Lebanon, and uncovers a murky world of shifting alliances between businesses, the military, politicians and diplomats. Based on exclusive interviews with key players, he traces the last weeks of Hariri's life, and reveals who stood to gain from his death. He assesses its impact on Lebanese politics including the withdrawal of Syrian troops, Hezbollah and the peace process. Full of intrigue, shady characters, and suspense, "Killing Mr Lebanon" brings to light what the Lebanese people have clamored for since Valentine's Day 2005: al haqiqa' the truth.

About the Author
Nicholas Blanford is The Times' (London) correspondent in Beirut, where he has lived for over ten years.
Praise For Killing Mr. Lebanon: The Assassination of Rafik Hariri and Its Impact on the Middle East…
"A rich piece of storytelling--Blanford provides the definitive account of the assassination of Hariri and Lebanon's subsequent 'Cedar Revolution'--dramatic events which are essential to understanding the Arab quest for freedom...Brilliant stuff."--Scott McLeod, Middle East correspondent, Time Magazine
"Nick Blanford, a veteran Beirut correspondent, reveals what led to the assassination of Rafik Hariri and how the murder altered the course of Lebanon's history and the balance of power in the Middle East. This is not only a real life thriller but a story with huge implications for the future of the region. Drawing on more than a decade of experience in Lebanon, Blanford is the man to tell it."-- Richard Beeston, The Times "If you are going to read one book on Lebanon, this is the one. It is as gripping as a thriller, yet packed with sober insight and history. More than an excellent biography of Rafik Hariri, a man of oversized ambition and appetite, who dominated Lebanese politics for a quarter century and rebuilt Beirut, it is a tour de force of contemporary Lebanese politics. Blanford plumbs Lebanon's relations with both Saudi Arabia and Syria, following the money and charting the tug of war between the regional powers. We come to understand why Hariri was murdered just as he led his country across the threshold of independence. Required reading for anyone interested in today's Middle East."--Joshua Landis, "Syria Comment" contributor and Assistant Professor of Middle East Studies, University of Oklahoma "How the 2005 death of a former prime minister sparked a popular uprising, forced Syria to end its 30-year occupation of Lebanon, and upset power balances throughout the region." --Financial Times "A brisk portrait of the man's travails and legacy." - Max Roedenbeck, New York Review of Books
Advertisement