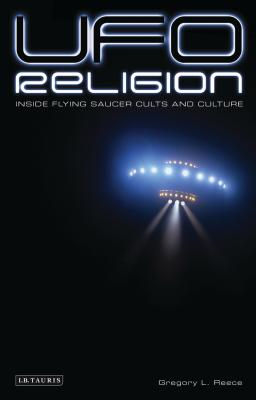 UFO Religion
Inside Flying Saucer Cults and Culture
Paperback

* Individual store prices may vary.
Description
Lines laid across the plain near the Peruvian site of Nazca have been explained as ancient roads or features of a long-forgotten religious calendar. So why did Erich von Daniken interpret these markings as the contours of a huge galactic spaceport? In his assessment of the uncanny and frequently eerie world of UFO-logy, Gregory L Reece travels deep into a mindset which believes that the gods of mythology were really visitors from the stars. Venturing into the Mojave Desert to watch the night skies for flying saucers; exploring Nevada's top-secret installation 'Area 51'; and visiting Roswell, famous site of a supposed saucer crash in 1947, the author's quest for the truth brings him more than he bargained for. He has his atomic structure recharged in a machine supposedly designed by extraterrestrial technology, encounters a whole galaxy of alien life-forms, and meets those who claim themselves to have been abducted by UFOs. Along the way, he tries to make sense both of the sinister 'Men in Black' and of lethal 'Tall Whites', deadly aliens who liquidate human beings without mercy.
What is it about flying saucer culture that speaks to people with an apparently religious intensity and fervour? For those looking for the answers, UFO Religion is the definitive guide and handbook to one of the most extraordinary and compelling cults of our times.
Praise For UFO Religion: Inside Flying Saucer Cults and Culture…
"Reece's highly readable inspection of ufologists who find religious meaning in their passion manages to be both insightful and humorous as it chronicles UFO sightings and purported alien-human interactions. Besides verifiable facts, Reece relays unverifiable conclusions that those who credit them believe because, he says, they are children of the space age as well as humans possessed of the usual existential hopes and fears that they're willing to have allayed by less-than-scientific reasoning. Reece travels to the Mojave Desert to join a group scanning the night sky for alien visitors, considers reports of the so-called Men in Black and Tall Whites identified by many ufologists, and visits the twin ground zeros of U.S. UFO culture, Area 51 in Nevada and Roswell, New Mexico. Bemused if not overtly skeptical, he examines his respondents' belief systems and combs their 'proofs' and conclusions to come up with some truly amazing tidbits. Consider this is an excellent introduction to its genuinely spacey subject." - Booklist  "UFO Religion is both an informed study of the subject and a thoroughly enjoyable read. While several excellent studies of belief in extraterrestrial visitation are now available, for those unfamiliar with this fascinating area UFO Religion is certainly the book to start with. Gregory L Reece covers a broad range of material with a light and deftly humorous touch. I have no doubt that his book will become a firm favourite with students. I am also confident that even those who, up to this point, have not been particularly interested in UFO belief will enjoy this carefully researched, well-written and accessible book."--Christopher Partridge, Centre for Religion and Popular Culture, University of Chester 'Greg Reece's UFO Religion engagingly captures that sense of mystery and wonder that drives ufologists to undertake their research. The book is a thorough and impressive analysis of UFO investigations and of supposed alien encounters. In an entertaining and readable style, Reece guides the reader through a maze of possibility and makes many intriguing links between science and religion en route. UFO Religion is an important book for anyone who is interested in the idea that our planet has hosted extraterrestrial visitors: or in what Carl Gustav Jung called "flying saucer cults".' - Susan J Palmer, Professor of Religious Studies, Dawson College, Montreal, and author of Aliens Adored: Rael's UFO Religion 'In his exploration of the complicated and diverse world of UFO culture, Gregory L Reece communicates a sense of wonder at the extent of the human imagination and our ability to tell powerful and lasting stories about the mysteries of the world around and beyond us. Reece takes his readers on a fascinating excursion from Alabama to Roswell, New Mexico and back again, with many entertaining detours along the way. Stories of alien abductions and distant worlds, he argues, are responses to the infinite possibilities of life and reflect the best and worst of our fears and hopes for the future. He reminds us that we are, after all, "children of the space age," and so it seems fitting that we cannot decide whether to transform the world or to escape it, to feel hope about the future or terror. It is impossible to reach the end of this book without acquiring a much deeper understanding about the enduring human obsession with UFOs.' - Sarah M Pike, Professor of Religious Studies, California State University, Chico, and author of New Age and Neopagan Religions in America


 
I. B. Tauris & Company, 9781845114510, 224pp.
Publication Date: August 1, 2007
About the Author
Gregory L Reece is an independent writer and scholar based in Montevallo, Alabama, whose research and publishing interests include philosophy of religion and the study of new religious movements. His previous book was the bestselling Elvis Religion: The Cult of the King (I.B. Tauris, 2006).
or
Not Currently Available for Direct Purchase