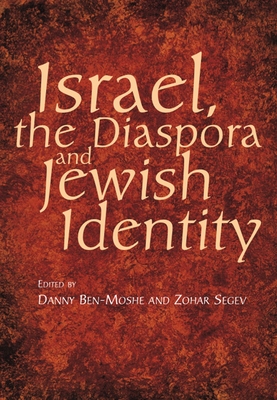 Israel, the Diaspora and Jewish Identity
Paperback

* Individual store prices may vary.
Other Editions of This Title:
Hardcover (9/1/2007)
Description
This book investigates the significance, contribution, and role played by the State of Israel - ideologically and practically - in the identity of Diaspora Jews. It explores the extent and way Israel features in Diaspora identity through a range of issues including: anti-Semitism and anti-Zionism, Jewish continuity, the peace process, pro-Israel lobbying, philanthropy, religious thought, and gender. It also looks at the place of Israel in the identity of Jewish communities in eight countries. A unique feature of this volume is that each chapter is followed by short and insightful viewpoints by Israeli and Diaspora commentators, with the book reflecting a dialogue between these different voices from across the Jewish world.
Praise For Israel, the Diaspora and Jewish Identity…
"A thought-provoking collection of essays in an interesting, effective arrangement, which provides a wide range of perspectives from Israel and the Diaspora. ...Each of the chapters begins with an essay, which is followed by responses from commentators in Israel and the Diaspora. This combination adds breadth to the exploration of the topic and, in some cases, enables a sense of dialogue. Part II, Countries and Regions, includes chapters on Canada, Great Britain, Latin America, France, Australia, United States, South Africa, and Russia. Recommended for academic and research libraries, as well as other libraries with collections on Israel and the Diaspora. Includes glossary, information on contributors, and index."  —Association of Jewish Libraries


"This work explores attachment to Israel by Diaspora Jews as a measure of Jewish identity. It is published at a time when there is evidence of 'distancing' from Israel by Diaspora youth, a time of demographic transition, as Israel moves closer to becoming the world's largest Jewish community. Essays that analyze present day realities in light of Zionist theories and goals are instructive, prescriptive, and thoughtful. Concerns about assimilation and the survival of Jewish peoplehood haunt the dialogue. The overriding question is, 'Will Jewry be best served by one center of cultural and religious creativity in Israel or by several centers in the Diaspora and Israel?' This collection of observations leaves the reader with much to ponder."  —Jewish Book World


"The perceptions and reactions to Israel of diaspora Jews have in recent years become troubling. The once – correctly – assumed unflagging support of Israel and its policies by Jews abroad has weakened. Does this reflect the policies themselves, Israel becoming the proverbial thorn in the diasporic side? Or, despite its secular majority, has Israel's increasingly Orthodox religious character in public and political life distanced many Diaspora Jews, while leading to enhanced bonds between Israel and Orthodox Jews in the Diaspora? Has diasporic Judaism acquired an independent focus, especially as this Judaism becomes less an ethnic and more a social and religious body, with converts, lacking roots and family in Israel, achieving prominence in synagogues and Jewish communities? These questions need answering."  —Kenneth Stow, Editor of Jewish History journal


"Despite the central place of Israel in Diaspora Jewish life, the ancestral country still has to compete with other influences on identity. Ben-Moshe and Segev introduce 18 chapters pairing an Israeli and Diaspora commentator on issues relevant to this complex identity and the future of Jewish peoplehood in specific countries/regions. Issues discussed include Zionism vis-à-vis the current wave of anti-Semitism, the relationship between the different streams of Judaism and Israel, Diaspora views of Israel's foreign/defense policy, and gender as a factor in this identification."  —Reference & Research Book News
Sussex Academic Press, 9781845192426, 353pp.
Publication Date: September 1, 2007
or
Not Currently Available for Direct Purchase