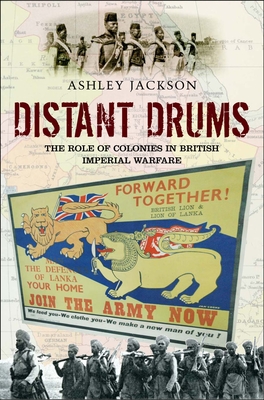 Distant Drums (Paperback)
The Role of Colonies in British Imperial Warfare
Sussex Academic Press, 9781845194383, 376pp.
Publication Date: December 31, 2010
* Individual store prices may vary.
Description
Distant Drums reveals how the colonies were central to the defense of the British Empire and the command of the oceans that underpinned it. Now in paperback, Distant Drums blends sweeping overviews of the nature of imperial defense with grassroots explanations of how individual colonies were mobilized for war, drawing on the author's specialist knowledge of the Indian Ocean and colonies, such as Bechuanaland, Ceylon, Mauritius, and Swaziland. This permits the full and dramatic range of action involved in imperial warfare to be viewed as part of an interconnected whole, from policy-makers and military planners in Whitehall to chiefs recruiting soldiers in African villages. After examining the martial reasons for acquiring colonies, the book considers the colonial role in the First World War. It then turns to the Second World War, documenting the recruitment of colonial soldiers, their manifold roles in British military formations, and the impact of war upon colonial home fronts. It reveals the problems associated with the use of colonial troops far from home and the networks used to achieve the mobilization of a global empire, such as those formed by colonial governors and regional naval commanders. Distant Drums is an important contribution to the understanding of the role of British colonies in 20th-century warfare. The defense of empire has traditionally been associated with the military endeavors of Britain and the 'white' Dominions, with the Indian Army sometimes in the background. This book champions the crucial role played by the other parts of the British Empire - the 60 or so colonies spread across the globe - in delivering victory during both World Wars.
Praise For Distant Drums: The Role of Colonies in British Imperial Warfare…
"Distant Drums is Ashley Jackson's latest attempt to integrate twentieth century conflict into the history of the British Empire . . . Jackson argues that the colonial empire was at the very heart of imperial defence during two world wars and through its engagement . . . we are left with a richer and more vital understanding of military history, of the relationship of the periphery to the metropole bound by imperial command, and of a variety of national histories of former colonies . . . In Distant Drums, Jackson presents an excellent preface, a clearly articulated thesis, and some wonderful chapters of important research."  —Professor Stephen Millerp, Journal of Military History


"The crucial role that India and the 'white' Dominions – Australia, New Zealand, South Africa and Canada – played in Britain's system of imperial defence is well known. Jackson's aim is to underline the vital contribution of those 50 or so other imperial territories ruled through the Colonial Office... This important and long-overdue book confirms Jackson's growing reputation as a leading historian of British imperial warfare."  —Saul David, professor of war studies, University of Buckingham, BBC History Magazine
or
Not Currently Available for Direct Purchase