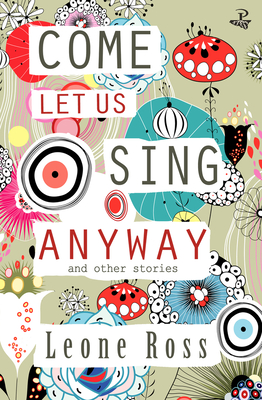 Come Let Us Sing Anyway (Paperback)
Peepal Tree Press Ltd., 9781845233341, 180pp.
Publication Date: July 1, 2017
* Individual store prices may vary.
Description
From headless schoolgirls, to talking food and threesomes, pretty much anything can happen in these witty, weird and wonderful short stories by Leone Ross.
Ranging from flash fiction to intense psychological drama, magical realism, horror and erotica, these strange, clever, frank and sometimes very funny stories have a serious side too. Carefully crafted over 15 years, they explore unbounded sexualities, a vision of the fluidity of the person, and politics – from the deaths of black people at the hands of the police, to the deep shifts that signal the subtle changes in the nature of capitalism and much more. These stories may sometimes tickle, sometimes shock; but will always engage both the intellect and the heart.

About the Author
Leone Ross is the critically acclaimed author of the Orange Prize shortlisted novels All the Blood Is Red and Orange Laughter. A novelist, short story writer, editor and lecturer in fiction writing, she was born in England to Jamaican and Scottish parents, and grew up in Jamaica. Ross's short fiction and essays have been widely anthologized, including the Brown Sugar erotica series (Dutton/Plume) which zoomed to number three on the Los Angeles Times Bestseller's List. Other US collections include The Year's Best Fantasy and Horror (St Martin's Press 2001) and Dark Matter: A Century of Speculative Fiction from the African Diaspora (Warner 2000) which was named the New York Times Notable Book 2000, the Washington Post Editor's Choice 2001 and the US Black Writers Alliance Gold Pen Award Winner for Best Anthology.
Praise For Come Let Us Sing Anyway…
"Flawless." —The Bookseller
"[Ross] is a pointilliste, a master of detail whose world materialises in clusters of precisely placed dots of colour . . . . as lyrical as Anais Nin, but less flowery." —Maggie Gee, Times Literary Supplement
"Leone Ross has a powerful style, a taste for complex organisation and a strong imagination." —World Literature Today 
"The finely controlled pacing yields an emotional clout as chilling as the times it evokes. Literate and accomplished." —Publishers Weekly
"Chillingly real-- raw, naked in its desperation, darting to the edge of sanity and back. Ross has created a powerful story and unforgettable characters." —Booklist
"Leone Ross' short fiction has been richly praised, published in multiple anthologies, and translated into Spanish, French and Slovak, but this is her first collection. The stories are set in the UK and Jamaica and vary in length from flash fiction to extended story, and have in common fantastical elements and a refusal to shy away from difficult and complicated subjects, like intense sexuality, social inequality, and the killing of black people by police."  —Claire Handscombe, bookriot.com
"These stories capture the complexity of women who have both strong passions and huge problems – the most fertile ingredients for exciting fiction." —Bernardine Evaristo, Guardian
"There is a sense that anything can happen to lovers in this collection: hearts are sliced like deli meat, hymens scattered like fleshy confetti, and a woman waits patiently for her beloved's [wife] - his restaurant - to let them be together. It's a mischievous collection - sensual, explicit, violent, brooding and playful . . . demonstrating the breadth of her dazzling imagination." —Alice Slater, Mslexia